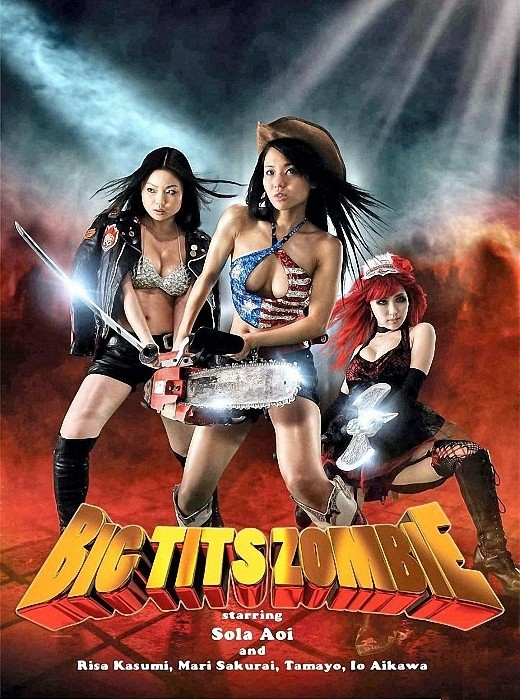 Let's be honest here there's probably but a few reasons you are watching this, either because the title says 'big tits' in it, you really like your zombie films or its the scantily clad Japanese models on the front cover that enticed you to make a snap purchase. I have no regret in stating that I ticked all 3 boxes.
The story reveals a group of strippers in a small grimy town, working for free. When the girls stumble upon a hidden door it leads them to an underground section of the club where one of the girls (who has a fascination with the occult) decides to read some passages from a text which raises the dead. There's little more context needed here, with a 70 odd minute runtime it's as simple as they come and it's clear the plot was never the focus, humour, naked women and a fun script are here in abundance.
I don't feel the need to discuss character names, there are a handful of girls all young, gorgeous and perfect bodies to boot. From the synopsis on IMDB you will notice that some also work in the adult industry, more notably Sola Aoi whose portfolio is quite extensive………..
The film is tongue in cheek all the way, from the zombie makeup which is quite frankly shoddy (I assume on purpose) to the various moments of comedic value that arises from both script and just straight up bizarre J cinema, I'm sure it will in the very least rise a smile from most.
On a serious note if some of the gore would have been a bit more practical (a great example would be Tokyo Gore Police) then Big Tits Zombie would certainly be a heavier contender in the splatter genre, there are certainly enough 'gore' scenes to make this possible but unfortunately everything has been added in post production, bar the brief scene here and there.
One particularly awkward scene towards the end which shows one of the zombies transforming into some form of creature clearly shows all of the wires holding the tentacle like body parts up, with zero effort to hide it.
And just when you think you have seen it all, I bet you haven't seen a zombie vagina complete with little gnashers……..wait you think that's it, that's just the foreplay! This vagina spits fire like a fucking flame thrower! Tick that off your list.
Now this is going off a cloudy memory but I can recall watching the 3D version of BTZ with colleague G, no doubt forced to watch it by myself, however I rest assured its only really 3D in certain 'key scenes' where it prompts you to put on the glasses………….usually when there's about to be…you guessed it, tits – shameless!
Overall Big Tits Zombie is daft, but certainly great fun. We went through a phase of watching J cinema's weird side and I'm glad I decided to have a random punt on a Friday night, it has reminded me to put a bit more time into the weird side of cinema again as it's just that……fun!
It's a strong 3 none the less and I have no doubt that when it's time for a trip on the wild side this will be getting thrown in for good measure…..or tits, because there are loads.