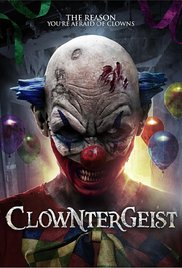 You know the phrase 'what you see is what you get' well, couple that with the slightly more ominous 'you get what you deserve' and you have my experience with 'Clowntergiest'.
I think the timing of its release is no mistake, the recent success of the 'IT' remake is likely to bring out more squidgy noses than the UK's comic relief, and with a title which is only just about a play on words we can all agree one thing, we were unlikely to be in the presence of a masterpiece.
Still, there are three stars awarded, right there, it's not your browser messing up.
Let's find out why…
The plot follows heroine Emma, a college student with a crippling fear of clowns, who must come face to face with her worst fear when an evil spirit in the body of a clown is summoned terrorizing the town she calls home.
So, no surprises there! The title literally says it all. That said, combining the supernatural element with clown slasher paid dividends in my opinion, despite cumulating in a rather dire final third. The film starts surprisingly strong, the characters are quirky, and the acting isn't complete pants. There are some really well thought through scares in the first 15-20 minutes; I actually thought I had turned over a winner. The films scare tactics are more in the modern camp, but like it or not, jump scares can work when done well. I appreciated the thought that had gone into the tension building in such scenes and I felt that the film had earned my jolted response by the time the inevitable volume spike and character pop-up came. The tone in the earlier parts of the film is dark, the clown antagonist (known as 'Ribcage') comes across as one sadistic SOB. He leaves blooded balloon messages, stalks from the shadows, waves eerily from outside bedroom windows – all the things that would put your average 12 year old girl into a terror induced coma; that said, I'm a 34 year old bloke and it still made me jump on a number of occasions.
By the 40-minute mark I thought a good film had been done something of a disservice at the hands of the marketing department.
Sadly, my initial optimism didn't last.
'Ribcage' and friends couldn't hold it together until the end. Eventually we get to see the clown in all his cartoonish splendour in broad daylight, he turns from spectral harasser to something of a spoof slasher killer; he even has a go at driving an ice cream van at one point. He disobeys his own rigid demonic MO and whilst some victims he kills instantly, others he seems unable to catch, time and time again, at one point even one of the characters questions (quite earnestly I might add) how on earth had they gotten away? In other scenes, 'Ribcage' is aimless grunting his way up and down sets of stairs like he has glitched, and in one of my favourite scenes (which I wish I could have turned into a GIF) he is just standing in broad-daylight in the middle of a kitchen waving his arms above his head with all the grunting finesse of an orangutan struggling to back one out.
The final act of the film, exposition and all, is absurd to say the least.
So then, overall, 3-stars. Justifiable? Yes, I think so. It is entertaining, and for the first half of the film I was enjoying it. Even when things began to unravel it is still amusing, although perhaps not quite as intended. The acting was good enough, the story engaging to a point and the film kept pace through its svelte 80minute runtime. It's a themed horror, albeit not a great one, but if you fancy a punt, for the right price it will serve a purpose.