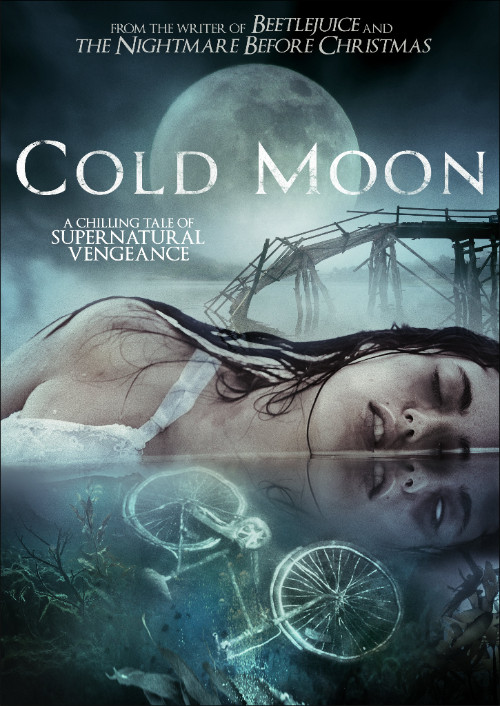 'Cold Moon', a supernatural creeper treats us to some traditional ghostly horror this Halloween.
Based on the novel 'Cold Moon Over Babylon' written by the late Michael McDowell, author of Beetlejuice and A Nightmare Before Christmas the film merges supernatural mystery, fantasy effects, and some exquisite cinematography to create a film that quickly establishes its own identity amidst countless peers.
The film, set in the rural US, offers us a spooky mystery where vengeance from the grave deals out some just deserts on those who thought they could abuse positions of power and influence to literally get away with murder. The quiet town of Babylon, Florida is turned upside down when the body of teenager Margret Larkin is found drowned in the local creek the towns folk demand answers. Indeed, the plot thickens and pressure is put on local law enforcement when Larkin's grandmother and brother turn up dead only days later. Sheriff Hale desperately searches for leads, but in a tight knit community, where the rich bankers and government look after their own interests above all else, he struggles to make any headway; thankfully for him, the vengeful spirits have their own justice to serve.
The plot is solid, for the most part, and the cast (a mixture of fledgling and veteran actors) perform consistently to create a community which is believable, if not a little disjointed from reality, through which the story unfurls. Oddly for a murder mystery there is only one real suspect that everybody suspects, and even more surprisingly, the sole suspect is then outed as the killer about half way through the movie. Indeed, even the obvious protagonists are 'offed' about this time shifting the focus of the plot in a completely new direction, now focussing on the movies (ironically more interesting) antagonist.
The films spookier set pieces are likely to keep horror fans satisfied, shifting from some serious thriller scenes to ghostly set pieces obviously influenced by comic book stylisation a la 'Creepshow'. The shift in tone might cause some viewers to feel the film undermines its integrity by showing spectral CGI and some creative, but ultimately campy puppets and/or make-up. The violence too, at times is almost comic, but in others, particularly towards the end, more serious in tone with suggestions of sexual assault and more graphic violence shown on screen. A stark contrast to the films more southern-gothic noir style first half.
Still, as a story which is engaging and harbouring some effects which are very nicely done indeed, 'Cold Moon' will keep you entertained, but I do feel that, despite getting a limited cinema release, 'Cold Moon' will find most of its fans come from horror fans who will appreciate its nods to its 80s influences.
Overall, as a thriller 'Cold Moon' perhaps lacks some integrity, but as a Halloween supernatural chiller the film will sit nicely in anyone's watchlist. There is just enough depth to the characters and psychological elements of the film to render it worth a second watch and the cinematography is downright beautiful to look at. Far from flawless, but ultimately enjoyable.