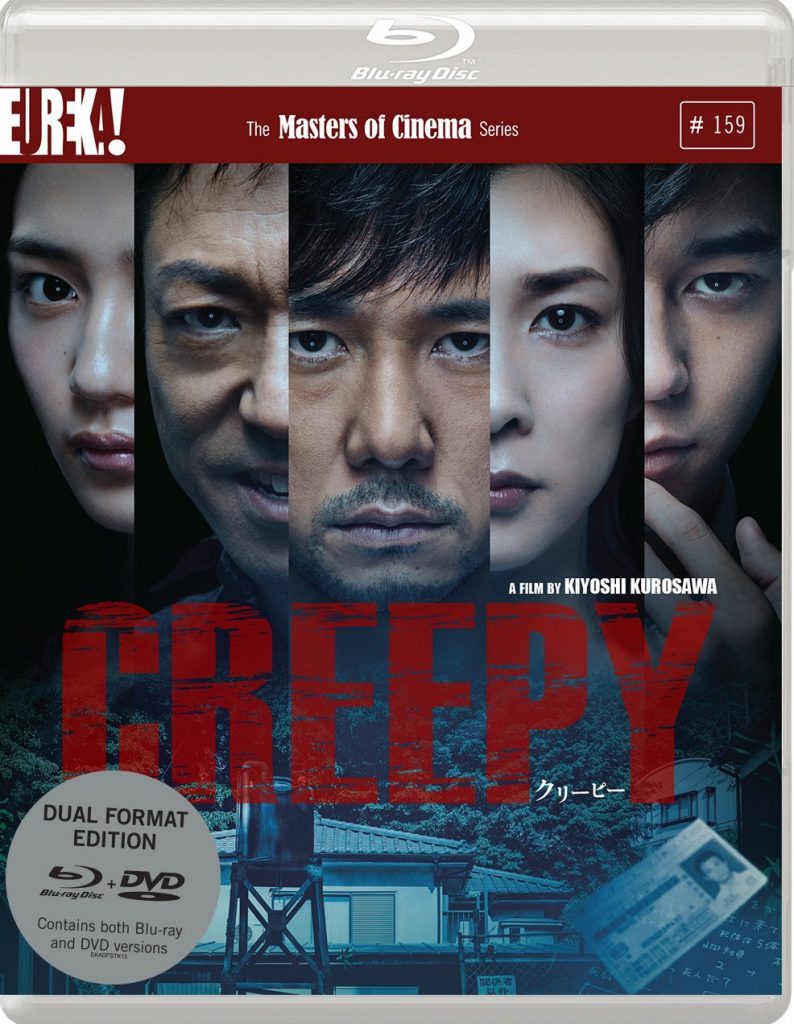 Director Kiyoshi Kurosawa returns to his genre routes in 'Creepy' (Kurîpî: Itsuwari no rinjin – original title). This time around the supernatural threats have been ditched for one far more sinister; a psychopath whose emotionless and distorted views of morality tear families and psyches apart with equal abandon.
The short and sweet version is that 'Creepy' is a movie whose title effectively sums it up (the Japanese direct translation – Creepy Neighbour does even better!). It is a movie whose story slowly builds, accumulating atmosphere and threat in equal measure throughout its run time.
The plot follows a husband and wife whose lives become irreversibly entwined in a psychopathic power-play orchestrated by their less than stable next door neighbour. After leaving the force 6 years ago former detective Takakura begins to notice subtle parallels between the actions and nature of his rather odd next door neighbour and a case which he has become an advisor to. The more he uncovers about the case, one that involves the unexplained disappearance of a family leaving only their young girl behind, the more he realises the threat is closer to home than he once thought. As the story progresses the movie becomes tenser, fraught with more psychological horror elements being drafted in to an effective climax which stays with you long after the disc has left the drive.
The subtle plot lines help to drive the story forward with a tension which feels akin to other celebrated thrillers such as Seven, and to some extent the Thomas Harris books (with albeit a less stylised protagonist). It is difficult to summarise, but there is something very effective in thrillers when the antagonist is known, and you can clearly see how powerless the everyday-normal characters are to do anything about the threat they pose. The characters are typical but their portrayal is not; it is truly outstanding. Whilst protagonist Takakura (played by Hidetoshi Nishijima) and his wife are quite typecast they serve as perfect prey for psychopath Nishino (played by Teruyuki Kagawa). His portrayal of the un-empathetic and manipulative sociopath is very real! Save for some standout set pieces which provide the more typical 'horror' elements to the film, his character (and portrayal) could quite easily be living next door to you!
The overall story is great, and whilst the movie avoids cliché twists there are plenty of cliff hangers and reveals throughout which keep you avidly locked to the screen. The only thing I would say here, and this is an issue I have had with Kurosawa's other movies – namely Kairo, is that the film could be perfected with some slightly snappier editing; I am not sure that some of the more lengthy scenes, particularly those earlier in the movie need to be as such to justify a run time of 130 minutes. I recognise here that atmosphere needs time to develop organically, but for me the better sequences later in the film do expose the slightly ponderous first act as having a fair amount of padding before the film really finds its feet.
Overall 'Creepy' has been released to international acclaim, and it fully deserves the reputation it carries as Eureka release it on Blu-ray in the UK. It is a mature thriller and the horror elements, like the aforementioned western thrillers, come in the gruesome MO of the psycho. Definitely one to watch this January.