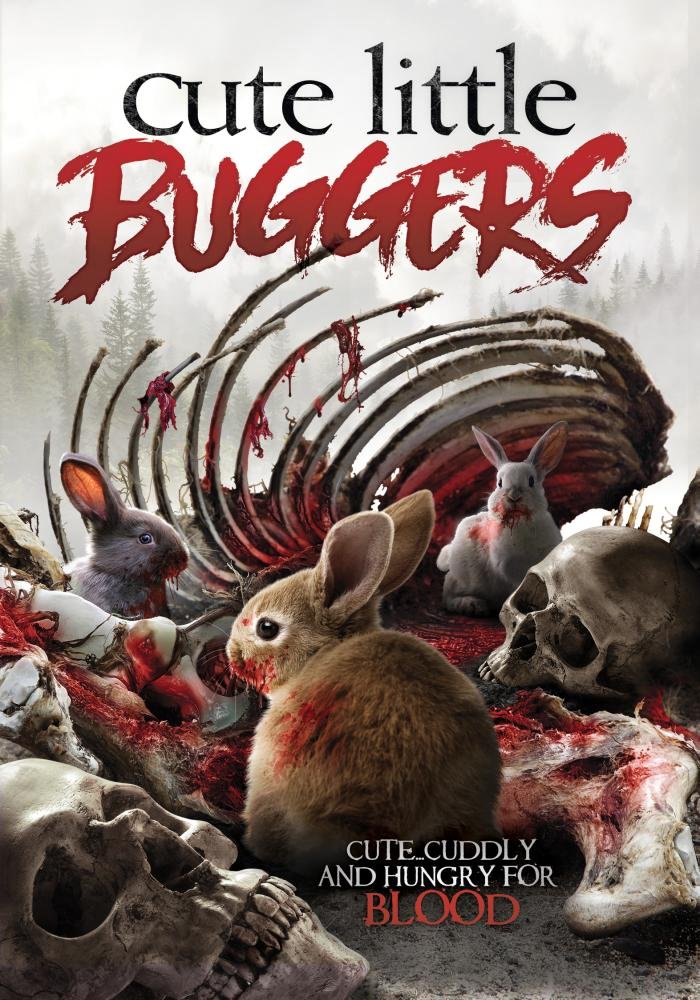 Director Tony Jopia (Crying Wolf) offers his latest horror/comedy 'Cute Little Buggers' and what a blast it is!
Evidently Jopia is staying true to his directorial strengths and is willing to unveil another dose of tits, ass, gore and comedy to boot, with a recipe that strong you can't really go wrong.
The premise is simple enough, hostile aliens are trying to find a suitable host to spread, using one species to impregnate our women – mutated rabbits. Chosen due to their high sex-drive….and….well shagging like rabbits! A quaint British village comes under attack from the deadly horde of monster rabbits and with women disappearing left right and centre it falls upon the locals to put a stop to the furry beasts.
The film is broken up nicely with segments provided by the two 'master' aliens: Brian and Ernest, coming in live from the mother ship these moments of relief are truly brilliant, it's funny, witty and reminds me of snippets from 'Red Dwarf'.
The dialogue is pretty crass throughout with every other line being an innuendo or double entendre – being an advocate for toilet humour I didn't find it an issue yet no doubt will rub the more sensitive crowd the wrong way, that said if you're familiar with Jopia's work and willing to watch a feature about killer rabbits, which also shows its cards within the first few minutes, well you got what you paid for!
What can be said about the cute little buggers, one thing's for sure they're not that cute after all, easily fitting in with the Resident Evil series, think along the lines of reaper dogs from Blade Trinity. Whilst the budget is clearly limited (£25,000 to be precise) you can cut some slack for CLB yet in a nutshell the cgi is dodgy as hell – in parts awful at others 'acceptable', for me, no problem, there's enough going on to look past it but I can see the casual horror fan seriously struggling with this B-Movie and tuning out being quick to judge. Honestly stick around, it may take some of the character away from the mutant creatures and at times does feel like someone has gone berserk in after effects but in the end should be a minor distraction.
I would have liked to observed slicker editing, for a creature B-Movie heading towards a 2 hour runtime I felt was overkill, especially as the first 40 minutes are slow to get going – without the need to elaborate an intricate plotline it really isn't necessary. Thankfully as the clock strikes one hour the rabbit apocalypse begins, struggling to keep up with the death toll we see people being torn apart, women are abducted for more breeding and a rabbit penetrates a young man's bumhole, head first. So fairly standard stuff then…ha!
The cast all play their own qwerky role and do a good job at portraying 'local people' from a small British town, I can imagine everyone had a great time shooting this and it relates to the humour that comes through, whilst personally I wasn't 'blown' away by any single performance each member played their part ensuring individuals were identifiable.
Voice work is however odd at times, with a mix of weird dubbing and out of place accents – effectively feels like some dialogue has been caught on site and some left for the studio, it's quite disjointed.
The comedy is British through and through with some hilarious moments thrown in – as a self certified miserable git it takes a lot to make me laugh especially obvious horror comedies but CLB hits the spot, this humour is right up my street. Without providing a spoiler finding out the rabbits weakness was also enough to make me laugh, snorting like a man pig.
Cute Little Buggers is the result of mixing a creature B-movie with a Carry-On film, thoroughly entertaining and easy to enjoy, add it to your Halloween watch list!
Boobs, gore, comedy – awesome! CLB is set to be released in the US from November 7th courtesy of Uncork'd Entertainment.