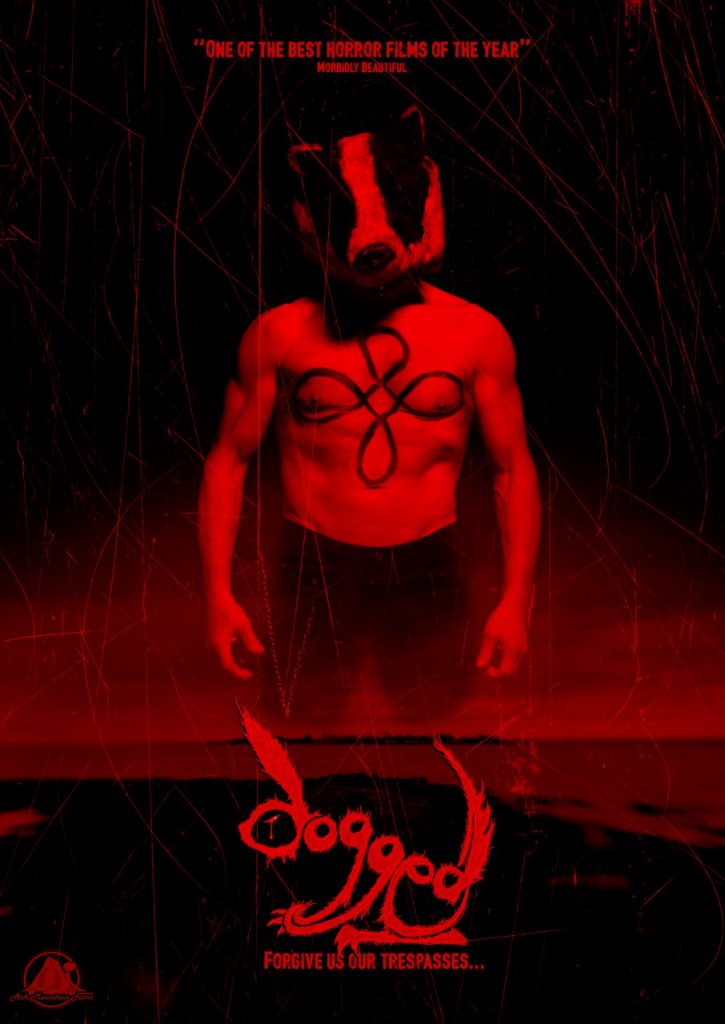 Richard Rountree treats fans of his 2015 short film of the same name to a feature length revisit to the remote island where the 4-minute segment (a runner up in the BBC 3s The Fear competition) was set.
The movie's title cleverly underpins the films main theme, that of relentless and tiresome pursuit, as well as referring to the films canine mask wearing antagonists. The film follows Sam (Sam Saunders) as he returns to his remote home to attend the funeral of a family friend, a young lady who supposedly fell to her death in a tragic accident. Shunned by the townsfolk for leaving the community for education on the mainland, even his parents (particularly his father) are not over the moon about his return; all is not lost however as he rekindles a relationship with an old flame, regularly diddling the somewhat unhinged Reverends daughter in the woods. Indeed, it is here that he first glimpses one of the islands bizarre dog-headed residents, and digging deeper he begins that the islands canine obsession is symptomatic of a far more sordid ideology.
What Rountree creates here is a snapshot of Britain's rural communities, naturally replacing a tightknit community's idiosyncrasies with those of horror fiction, but watch and listen as we glean a cynical insight to Britain's in xenophobia, nationalism and indeed a stoic belief in tradition. For its shoestring budget what is accomplished is both genuine and intriguing. The acting, whilst inconsistent in parts, it typically good, and whilst the characters themselves quite one dimensional, the community as a whole come across quite convincing. The plot flirts with mystery, drama and occasional slasherisms. There is a definite slow burn approach to the self-acclaimed 'folk horror' and it is more akin to more traditional creepy horror than anything outright scary. Indeed, there is only one scene which portrays anything close to graphic horror the rest, with fear of sounding like the BBFC, could be summarised as mild threat.
As far as themes and feel goes there is one film which I felt 'Dogged' was somewhat a kindred spirit to, and whilst I don't want to reveal much about the plot, the film I am talking about rhymes with 'icker man'. Actually, I don't feel too bad about inferring about the films cultist style plot as it is hinted on pretty early on in the plot. Enjoy that movie, you will no doubt enjoy this.
However, despite the films strong start with plot beginning to unfurl nicely 'Dogged' has ultimately shown its hand at around the 75/80-minute mark – perhaps sooner if you were astute. Whilst the film didn't motor along up to this point there was a very organic feel to the flow of the movie, almost like the slow and timeless pace of rural life, indeed had the film ended at the almost industry standard 90minute mark the reviews score would be at least a star higher. As it stands though, what follows is another 30 minutes of, well pretty much the same as what came before. The ending is great, but ultimately, for my commitment to the films length, I struggled to rationalise quite as to why 'Dogged' had taken as long as it did to get there. If I was to offer any recommendation it would be to revisit the cut with a more aggressive editor.
Overall however, as a film it is definitely worth your time, if you are happy to commit to the long haul. If you love characterisation and are in the mood with something which is both mysterious and traditional the 'Dogged' should be on your radar, what has been accomplished is remarkable considering the films meagre £15000 budget, and to be frank engaging regardless.