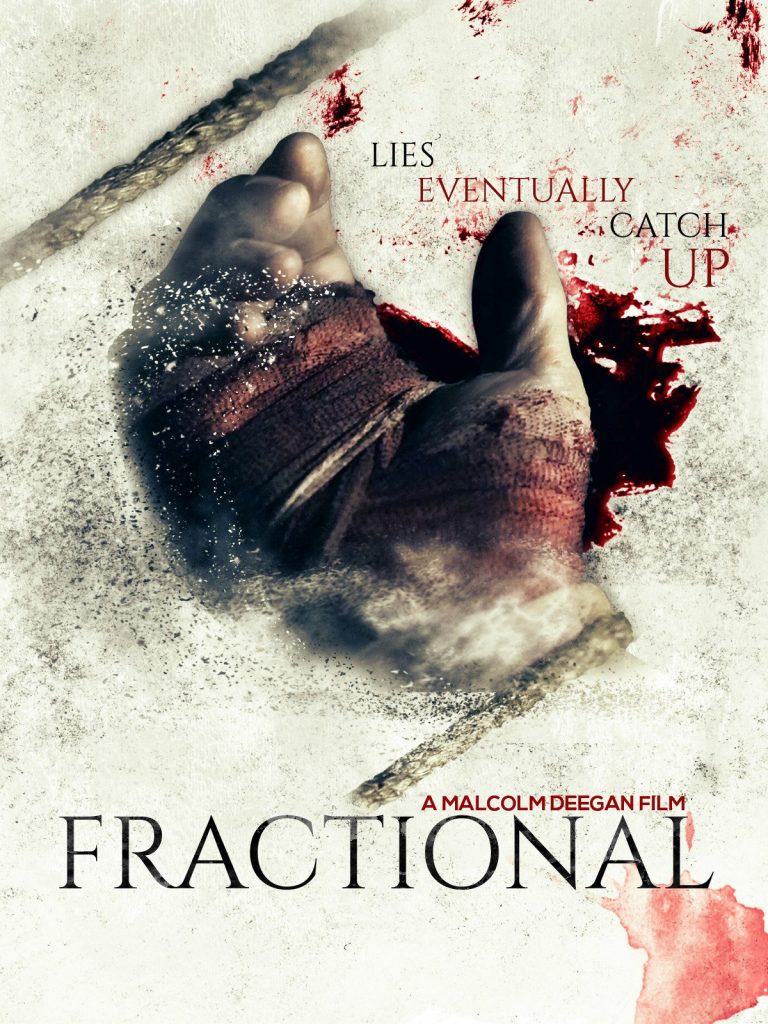 Written and directed by Malcolm Deegan 'Fractional' is a psychological thriller which plays heavily on our innate fears of helplessness and isolation to engage in its story of guilt, dirty secrets and moral dilemmas.
The films open's as John Hatchet, a therapist rouses from a drug induced sleep. Gagged, and bound to a chair in a warehouse, his surroundings are unfamiliar, but perhaps more concerning is that he is situated next to a table which is fully garnished with all manner of knifes and surgical equipment. Sensibly he begins to panic, but things are only going to get worse for him. His captor and tormentor is one of his old patients – David Crove and needless to say his mental state hasn't improved since their last meeting. So begins a 90 minute mind rape within which Hatchet is made to confront a past he tried to hide.
As my colleague Chris correctly pointed out at the time, bind-torture-kill type films namely take on two guises – the 'please ban us' gore-fest variety (ala Grotesque, Guinea Pig), or the more slow burn quid-pro-quo types – 'Fractional' is most defiantly the latter. With a small cast, outstanding performances were needed if the story was to have any chance of reaching its conclusion with its audience still engaged; here 'Fractional' shines. Deegan's psychopath Crove (Peter O'Toole) has a mesmerising aesthetic about him. With a soft tone to contrast his angular features, his performance more-or less carries the film as he toys with Hatchet's mind, hopes and fears. The script is strong and the conversational play between Crove and Hatchett is engaging and pacey. You only have to read a few of our reviews to know that we easily fit into the ADD-generation stereotype! We watch films to be engaged and entertained – hey, blame our 1980s upbringings, pace in horror movies is often a problem. So, for us to say that we were glued to the screen for much of the running time, despite much of the film limited to conversational exchanges within one location, is all the praise we need give to the quality of both script and performance.
Where script and performance stand out there are, however, elements of genre typicality within the film – and all the pitfalls that go with it. This includes some inconsistencies in tone and continuity of atmosphere. These are much less prominent in 'Fractional' than in many other genre films, but they cannot go without a mention. First off, the story starts with some implied torture, and then an excruciatingly visceral scene involving the use of a blunt instrument and Hatchett's poor fingers! This scene showcased some outstanding effects and I was really hoping that there would be similar scenes of violence exhibited throughout, but sadly they didn't come – aside from one grim flashback scene. Instead, the more typical 'torture-porn' style themed scenes which followed seemed somewhat out of place – namely one which involved the hiring of a hooker to 'take care' of the bound and gagged prisoner, followed by some crude dialogue which seemed to clash with Crowe's otherwise tempered and eloquent style of dialogue. The story to, meanders a little, specifically towards the end where the subtle twists and turns which helped to create intrigue earlier in the film, seemed to collide in a climax which seemed a little contrived, and again, a little too by-the-numbers.
That said, these are minor niggles in what was for all intents and purposes a solid effort. Malcolm Deegan knows how to write a tight and gripping script, and showcases confident and skilful direction of his cast – 'Fractional' may not be perfect, but it's still a damn fine effort.
Overall, 'Fractional' is a psychological horror/thriller which has a heavy and credible skew towards the psychological end of the genre. Outstanding performances carry an intriguing story to completion. I look forward to seeing what Deegan can deliver in future projects.