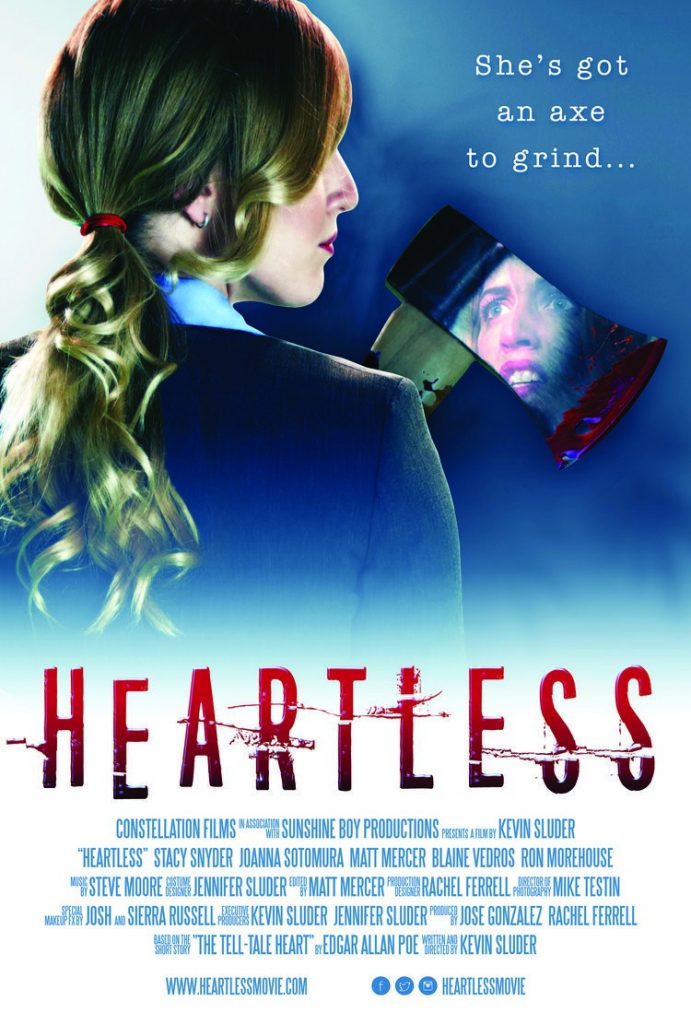 Kevin Sluder directs 'Heartless', a witty and gruesome short film based in concept on the Edgar Allen Poe tale 'The Tell-Tale Heart'.
As with its source material, the short deals with the concept of guilt, in this case we see undervalued corporate associate Shelby struggle her way through a presentation, her mind wracked with the guilt of her actions the night before. As she tries to maintain focus she is pressured and harassed by her chauvinistic colleagues to breaking point. Needless to say, her presentation doesn't end in quite the way any of them expected it to.
Slunder and his team manage to tell a tale with a point, whist packing more gore in its 10-minute runtime than your average genre title does in a full 90mins. In-between the carnage there's even time for the odd one liner to remind you that its all-in good taste. The short is well paced, and despite the films escalating violence, it never looses its atmosphere and even with splatter style effects, the film maintains a gritty and brutal edge, right down to the last victim.
Lead lady Stacy Snyder does well with her schizophrenic performance, and you are never quite sure how well-balanced poor Shelby was before the incident! Although I suppose her initial reaction to her colleague's feedback provides the answer to that backstory!
Overall, 'Heartless' is a tough film to fault. It comes in with purpose, packs a punch with some seriously visceral practical effects and leaves your ears ringing as post-hardcore band 'The Dillinger Escape Plan' plays out the credits.
If 'Heartless' is playing at a festival near you, see it. Simple.