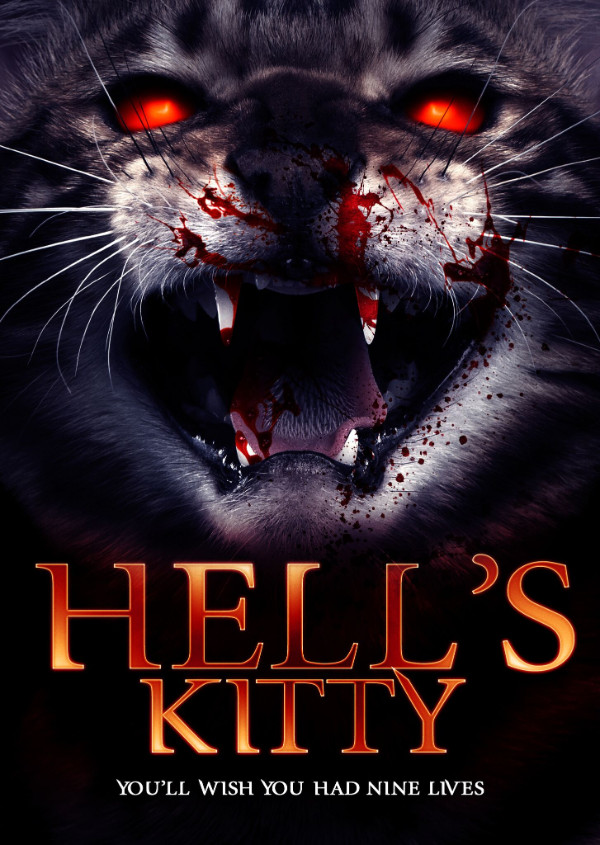 I'm not going to lie, I am not a subtle man, nor am I in any way a particularly mature 34-year-old.
As such I would like you to consider this as you read my review of the innuendo ladened 'Hell's Kitty', which, regardless of the films overall quality (which is low budget to say the least), it's plot (which is essentially a chapter by chapter montage of kill sequences involving the titular cat) had me at the line: "Help, my pussy's possessed!"
The official synopsis: "Nick (Nicholas Tana), a Hollywood screenwriter, discovers his cat has become murderously possessed, and will stop at nothing to rid him of any women in his life. As his life unravels out of control, Nick must find a way to have his kitty exorcised of the demonic spirit haunting her and creating a body count."
What this essentially plays out as is a set of (very) loosely connected set of scenarios within which Nick's cat ultimately ends up killing the latest lady(s) in his life. Much of the scenario set-ups come from dream sequences and/or him talking to his psychiatrist about his feline problem. Cue a fantastic script which is filled with plenty of humour, horror references and enough play-on-words to make this a film purr-fect watch for all but the most miserable of horror fans. It is seriously funny! The scenes where Nick must bond with the cat (and indeed the films wholly slapstick concept) works well within the films less than ambitious boundaries and the killer-cat sequences do enough to give you some decent violence thrown in for good measure.
Backing up its witty writing are consistent cameos from horror's notorious back catalogue with actors such as Doug Jones (The Shape of Water), Dale Midkiff (Pet Sematary), Michael Berryman (The Hills Have Eyes), Courtney Gains (The Children of The Corn), Lynn Lowry (Cat People), Kelli Maroni (Night of The Comet), Ashley C. Williams (The Human Centipede), Barbara Nedeljakova (Hostel), Adrienne Barbeau (The Fog), John Franklin (The Addams Family) helping to consolidate this feline foray as much as a homage piece as it is a classic in its own right!
The violence is deliberately comic, but it lo-fi effects ladened blood and gore still hit their mark. The special effects on the cat are intentionally laughable as it goes from your standard Felis catus to Felis Daemonium with the help of some pretty 'stock' visual effects.
Indeed, to critique this film any further would be more than a waste of time, this is not 'high art', and as a film it probably doesn't have more than a couple of watches in it. That said, it sets its stall out right from the start with ample of violence, sexy situations and of course killer cat all within the first 10 minutes. Naturally it struggles a bit for pace in parts, I mean how do you top an opener like that? A lesbian sex scene followed by a double murder? Sure, but then what?
Overall, as an opener for a movie evening 'Hell's Kitty' delivers. For film critic's movies like this are always something of a guilty pleasure, but hey, if you like it you like it!
I hope you do to!