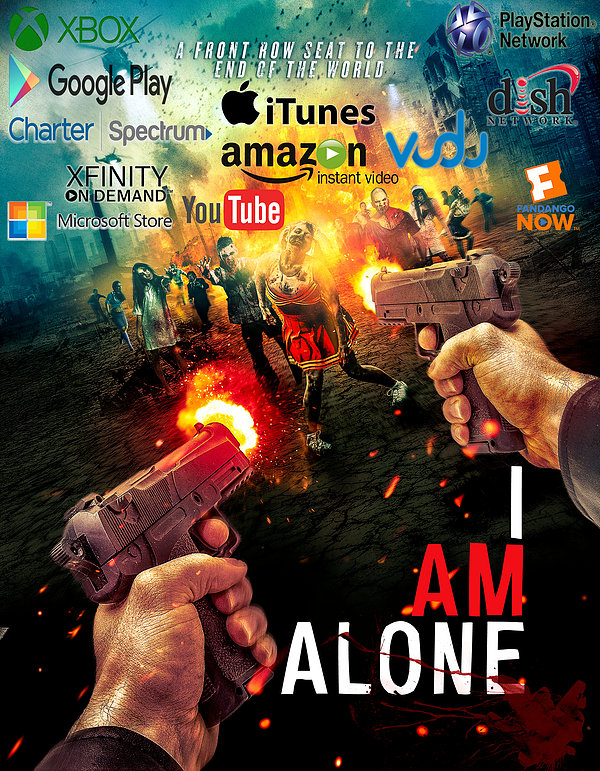 Filmed on location in the majestic Rocky Mountains we join Jacob Fitts, a survivalist reporter documenting his final and most challenging show of 'I am Alone' to date; and what better than the ultimate survival scenario – the end of the world as we know it, the Zombpocalypse.
'I am Alone' is a found footage film by director Robert A. Palmer and what a corker it is. "Grab yourself a front row seat to the end of the world", thank you sir, don't mind if I do.
The film begins in a military base where one of the three man 'I am not alone' crew is being interviewed by an army official. Whilst the two don't exactly hit it off there is a common goal, to review the footage recovered and being streamed to locate Jacob who, against all odds, has survived longer than expected despite infection from a zombie bite.
The movie jumps between the different camera perspectives, utilising all manner of 'recorded' footage to tell the story and whilst the plot doesn't really add anything new to the already substantially covered hypothetical zombie-endtime, the changing perspective feels fresh and keeps the story moving without feeling restricted by one viewpoint. Whilst I realise that there are other found footage movies out there documenting the fictional demise of humanity, the utilisation of filing style in 'I am not alone' felt relevant. I thought the survival element was an interesting one, as rather than your typical muppet wilding a shaky cam, Jacob's skills and insights into survival get you routing for him, and also gives some context and rationalisation to his actions, both you will no doubt agree with me is often lacking in genre films.
The intimacy of being tethered to Go-Pros and the ilk allows the characters to develop on a personal level. Another major gripe I have with FF scripts, thankfully averted here, is that most of the talking, utter babble; either cliché or just plain filler. Here, he is talking to us with instruction, insight or anecdotes as his fictional audience, that dialogue feels natural as opposed to exposition or just inane chatter.
The characters really make this film the success it is, and the odd iffy performance aside, I thought the acting was solid throughout especially lead Gareth David Lloyd.
Rounding the package off is (of course) the main attractions – the Zombies themselves. Now I don't know whether it was the perspective, some of which is first person, but I couldn't get the idea of a life action computer game out of my head, and if I could describe the zombies in any way I would say that the horde – apparently played by some of the locations local populous – act in very much that way. The makeup and effects are ok, nothing too extravagant but they do the job, and the violence similarly so.
If there was one thing I would have liked to have seen more of, its gore – but then, when don't I? (is it too much to ask for a POV disembowelling?)
I can't see people feeling short changed, and the carnage is very much in line with your typical genre entry, but the film has a far greater emphasis on character than it does on decimating hordes of the undead – despite the films gung-ho artwork.
Overall, a solid flick with just enough of a twist to put it towards the front of the pack – or should that be horde? Loved it. If you've had your fill of killer clowns and haunted asylums this Halloween show some love for 'I am Alone' a solid entry in horrors most beloved genre!