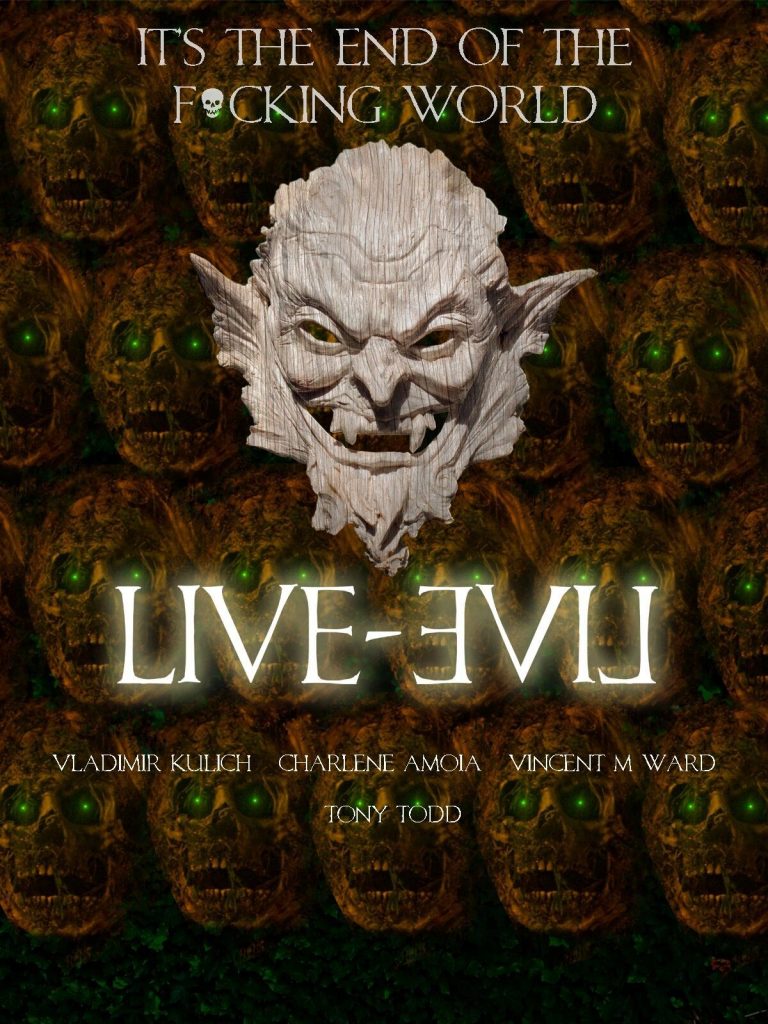 Director Ari Kirschenbaum has some quite clear and vivid ideas, with a film that features two polar opposite halves and more style than a Paris catwalk – Live Evil is great to look at, but underneath it all, not that interesting.
Synopsis:
When a small college town police station is besieged by "Evil" on a sleepy Halloween night, Pete, the sheriff, and Hancock, his loyal deputy, are thrown into the middle of holy chess-game that could destroy the town, and possibly the world.
It's a busy Halloween night for the local sheriff's department in a small town, deputy Hancock (Charlene Amoia) is called to a disturbance where she encounters a female with glowing like eyes standing by a dead body – with no backup available she is cuffed and taken back to the quickly filling station.
The way in which evil spreads through the station and later the town is a genuinely original concept, each person sees the entity as their own version of 'evil'. Thriving off their hatred the evil has its chance to manifest in a number of ways.
Evil starts to emerge in the form of zombies/demons whichever way you look at it and the town comes under siege.
The first half of Live Evil shows a stylized film whilst getting into its main story, think along the lines of Sin City – mainly shot in sepia with certain elements brightly coloured to give them pop, it's unique and as a whole is an intriguing aspect but it sticks around for an hour, well over staying its welcome. We are also presented with a tarantino-esque chapter format which I felt completely unnecessary, the plot lacking that much depth to justify its use.
The second half of the film is more light hearted and tries to offer some comedic value to the film with zombies/demons taking over the town, they can drive cars operate guns and ride around on Harleys – ok that last part is awesome! On the whole the comedy does little to lift the film, it's just……well not that funny.
Live Evil certainly gets the retro feel down, its synthetic soundtrack definitely keeps the film going and its demons which are a mix between Iron Maiden's Eddie and Carpenter's aliens from 'They Live' dominate the latter half of the film thankfully bringing some much needed rest from the tedium.
Tony Todd – We know he's in Live Evil – his name dead centre of the films poster signalling that the Candyman himself is making an appearance, just note that its sub 20 minutes and as a performance sits well in line with the film as a whole – dull. Whilst I appreciate his name is used to bring some semblance of quality to horror films, especially the low budget variety it certainly doesn't make it instantly a hit (I'm looking at you 'Jack the Repear')……….enough said.
Overall whilst I can appreciate the stylistic approach to the film, it really is style over substance. There are more CGI gun battles than I would like to admit present, the story, whilst having its moments just isn't engaging and the overly long presentation of the first half of the film negates any positives the more clear cut latter stages manage to produce.
That said I could see to a degree why someone may consider the score to be the other way, the undead are a good blast from the past and it does have its retro theme going for it.