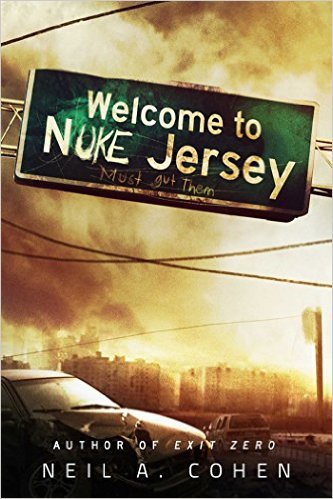 Back in 2015 we reviewed a Zombie Book entitled 'Exit Zero' authored by New Jersey aficionado Neil Cohen. Our review praised the book on so many levels – great plot, cool characters and a fun vibe which made it an addictive read. It wasn't just us either, since our review I have read nothing but praise for the book as the hordes of zombie-fans had their fill of Cohen's unique and vibrant vision of a zombified future.
But that hunger can only be satiated for so long, and thankfully, just as things were in danger of becoming violent, Cohen returns with the 'Nuke Jersey'; a sequel which is every bit as enjoyable as the first book, developing further the world within which 'Skells' shamble from the darkness, where genetically modified M.E.A.T turns your average resident into a wasting creature (the aforementioned 'Skell'), and the state of New Jersey becomes the both the cause and last hope of survival from mankind's latest threat.
'Nuke Jersey' carries on from where the first book left off. The events which befell the Garden State in 'Exit Zero' have not improved, well not for the citizens who survived with their humanity left in-tact anyhow. The 'Skells' well they appear to be 'being taken care of', with loved ones holding out hope for a cure, and others simply trying to return to a state of normality. Still, even in the darkest of hours' mankind still finds a way – to fuck each other over it would seem.
The vibrant array of characters return (in one form or another!) and it's great to see old friends in high places now working in different capacities – some on the run – after all, unleashing Armageddon isn't exactly CV enhancing, others looking to cover their asses should the public find out what really happened. Big corporations successfully exploit the situation, with the public looking to them as saviours from their desperate plights, all the whilst they enact their own insidious agenda right under people's noses! To counter the corporate threat, we see a new group introduced – so apt it would seem considering recent 'real world' events – a protest/terrorist group known as G.R.A.S.S. whose naive piety towards social justice could see their hand in all this the most damning of all.
The plot surges forward at a pace which makes the book difficult to put down. As the story is told from several perspectives each chapter ends on a natural cliff hanger meaning that there is seldom a dull moment. Whilst this isn't a film (yet!), as the story unfurls all the fan favourites are represented in welcome abundance. Flesh tearing zombie attacks, violent military set pieces, even the inclusion of some rather bad-ass and innovative hi-tech suppression – minigun turrets and subliminal messaging anyone? It really is the full package and aside from simply wanting more of it, I find it hard to fault from the perspective of entertainment.
However, whilst the story is satisfying in its own right, it is once again within Cohen's sub-text that I find myself most captivated.
It is no secret that behind the core ideology of 'classic' Zombie media there is an underlying message, often an analogy of sorts for man simply 'doing' before thinking about whether he should. In 'Exit Zero' Cohen blew me away with his refreshing cause of Zombification, the side effect of eating lab grown food-stuffs (the book develops this far more than this sentence does justice), and in the sequel the lore for Cohen's gruesome vision of an alternative just keeps getting better and better. One part in-particular references that the overweight 'Skells' can often out starve the infection, then in a somewhat sarcastic turn of phrase states survival of the fittest becomes survival of the fattest! And there are countless other examples of just how fluidly Cohen gives context to his outbreak, maintaining the same fantasy Zombie survival scenarios we all love, but grounding it with some cynical home truths. There is no doubt that Cohen's fantasy world bares, all to worryingly, hallmarks of our modern society, and as organic as the parallels seem to be, I have never seen them used as astutely as they are in this franchise.
The same is also true of the different forms of writing used to represent certain parties' communications within the story. As is the first book, the often-cryptic emails and amusing advertisements return in the form of emails and radiobroadcasts. To keep this aspect up to date the series continues to utilise modern media in its exposition of events – the use of a new Smart phone app, for example, which allows users to tag 'Skells' for others to reference, and new waves of social media fads including radical weight-loss diets, 'Skelfies' and my personal favourite, the concept of 'Skelfie fails'! Not only adding to the humour in the book I feel they another depth of integrity to the concepts 'real-life' parallels.
Overall, with my enthusiasm I am becoming very conscious of giving too much away! I will conclude by saying that by being the middle book of a planned trilogy the plotlines don't close just yet and with several twists and turns strategically deployed in key chapters you will be left wanting more – a lot more. This series remains at the top of my recommendation list for Zombie media, and 'Nuke Jersey' is without a doubt a must read for current fans, and for those of you yet to experience New Jersey's claim to the apocalypse – well the 'Nuke Jersey' isn't out until June 2017, so you have plenty of time to check out 'Exit Zero' in the mean time!