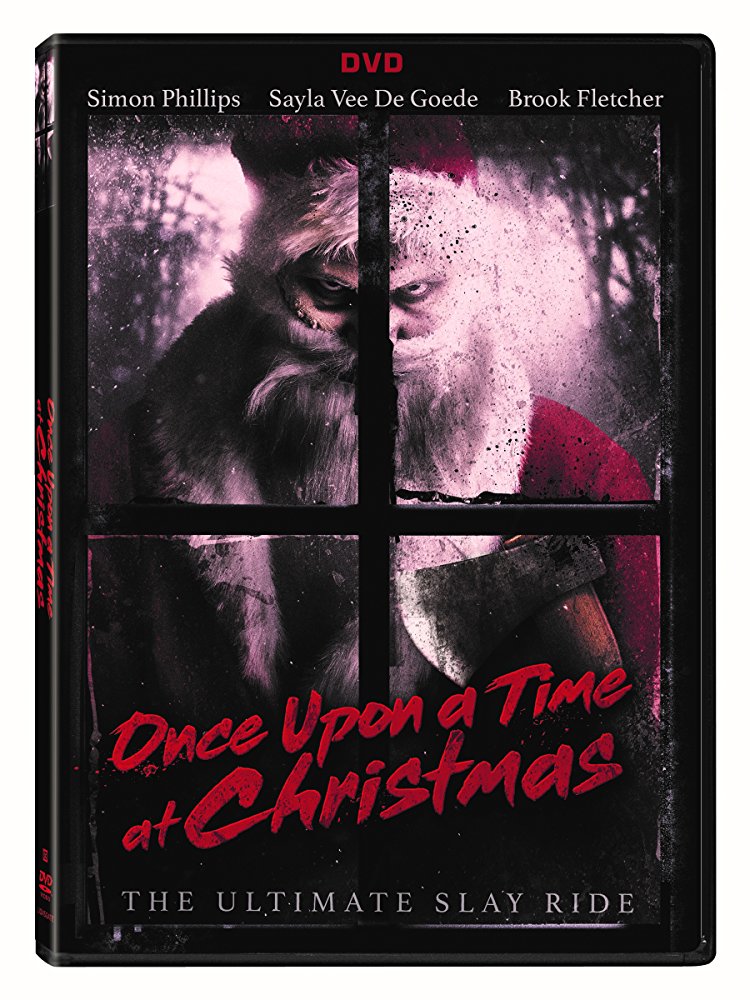 Ladies and Gents, it is that time of year again and excitedly I find myself blowing twelve months' worth of dust of my festive genre favourites. Whilst my dinnertimes are spent watching a family friendly version of the jolly and oft rotund St Nick, when the sun goes down things take a far more sinister turn as I watch various guises of Santa and his henchmen hack and rend their way through the unbelieving – be them either naughty or nice!
With some many great titles to choose from, it has become something of an annual tradition that I put together what I consider the quintessential Christmas slasher list. When director Paul Tanter dropped some rather tantalising poster artwork into our Inbox promoting his newest Christmas slasher throwback 'Once Upon A Time at Christmas' I was very hopeful that there may be a new contender in our midst.
The plot, (satisfyingly simple), a couple dressed as Mr and Mrs Claus go on a killing spree through the small US town of Woodridge. Starting 12 days before Christmas the local law enforcement and FBI are overwhelmed by the carnage as the crazed duo rack up a body count of festive proportions!
Its execution, whilst not without some flaws is most definitely satisfying to say the least.
Whilst the concept of having a murderous Father Christmas might not be the most original (although it would be difficult to imagine a festive slasher without the big man as the antagonist!) what I loved is the fact that the murders are not simply 'occurring' and indeed the killers mo is based on a popular Yule-tide song, and as such I felt that the film cleverly managed to carve itself a little piece of unique IP with this angle alone. Through some limited backstory the male killer is justified in his ability to conceivably commit the high numbers of takedowns, whilst Mrs Claus, a festive rendition of suicide clubs' 'Harley Quinn', is, as one character puts it, just there for show. Needless to say, his character comes off a lot stronger than hers. Simon Phillip's psychopathic Santa really jumps off the screen being both calculative and crazed at the same time, it is a shame that Sayla de Goede's Mrs Claus doesn't get the opportunity to branch out beyond her often cringe inducing one-dimensional characterisation.
The film is exquisitely shot, with enough Christmas aesthetics to get you in the mood, but not enough to kill the atmosphere of what is ultimately a savage little flick. The editing is sleek and the whole 12 days of Christmas killing inspiration sees the film maintain a whirlwind pace as the carnage unfurls. I am unsure of the budget, but from these perspectives alone it far defies any limitations.
The violence is spread nicely throughout and believe me when I say that it is bloody and brutal. I don't think there is any doubt that the film is inspired by the more infamous 80s Christmas slasher franchises, and there is a nostalgic feel about the practical effects and the methods used to dismember and dispatch the countless victims. The effects look great, and whilst there was no single show stopping scene, I am confident fans of slasher horror would be as impressed as I was.
My only reservation to recommending this film to both hardened genre fans, and those who like to dabble in the occasional horror, is that there are some real awkward moments of dialogue delivery which remind viewers that despite the high-quality production values, this is still very much an indie entry; these leave some scenes dead in the water, whilst others lack the impact they needed to keep the tension. It's not so much that the acting is bad, although I think I would be justified in stating that performances varied, or that the script was lacking, but a missing ingredient between the two. To some degree I wonder if the sarcasm and 'dry' humour was lost on some of the cast?!
Overall, however, as far as picking this movie up for a watch this Christmas, I most definitely recommend you do. The reservations in the last paragraph only serve as critique of what is an otherwise fantastic festive effort. Once you've watched the staples, and you are branching onto more recent efforts such as 2012's 'Silent Night' and the ilk treat yourself to something new this year!
'Once Upon a Time at Christmas' is out December 2017.