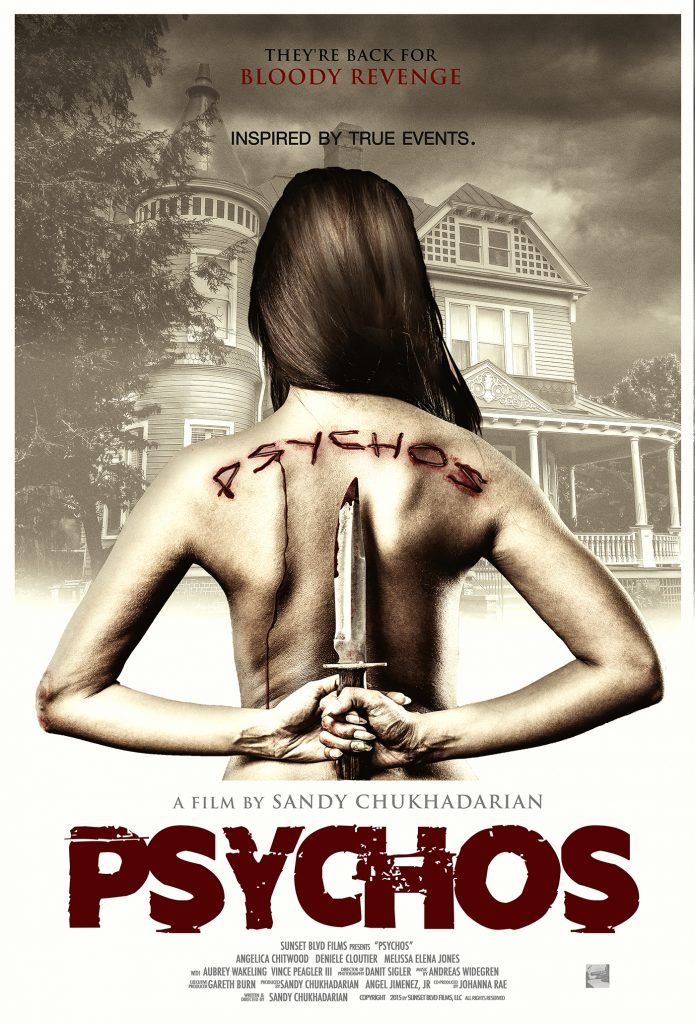 Three girls, one bloke and one sordid past to link them.
Psychos, an edgy blend of classic slasher and increasingly popular 'psychological' horror, Sandy Chukhadarian makes her debut in a feature, which, whilst playing it somewhat safe, does well to entertain for 80 minutes or so.
The story kicks off as we are introduced to three young women, Norma, JJ and Sasha. Each with their own style – namely a goth, a slut and one with a foul mouth – and whilst they don't have any obvious adult ties, we see that they have at least one thing in common. It quickly transpires that all of them were kidnapped and abused as young girls, all by the same guy, in the same house and just recently, all have received a video message documenting their torture. Determined to close that particular chapter of their lives they join together and seek retribution on their tormentor.
The plan is simple. Break into the house, find and kill the guy who they blame (and quite rightly) for ruining their lives.
Indeed, all of them are somewhat unhinged, and despite a common goal the constant bickering and lack of either a definite plan or leader sees that things don't quite go the way they intended; it turns out that sometimes that being a black belt in bad attitude doesn't always make you a match for sheer brute force.
There are a number of plot twists and turns throughout the film which keep a nice pace, especially as they are interrupted by some quite pleasing outbursts of violence and then some rather compromising sexual scenarios. It's neither that brutal, or that sexually explicit, but together with a interesting plot and the nice touch with the girl's consistently shifting mental states from vixen to vicious, there is always something on screen to entertain.
Overall, this is a short review, namely because to say any more would become spoiler inducing, and anything else that matters has already been said. It is a solid, if somewhat 'standard' slasher style horror. It is well put together, and I feel that Chukhadarian has more to give us in the future. You could do worse all in all, but in a world where you could be a little cynical and say there are no new ideas, it still doesn't hurt to try…