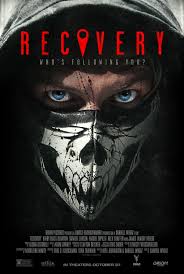 Recovery is another 'new-age' horror which by tapping in to the popularity of social media delivers a simple yet enjoyable thriller. 'Friend Request' comes to mind a film which also uses social media as an angle of vulnerability if you like, with the ever growing success of social platforms it's easy to show viewers a very real threat when somebody can learn anything and everything about users just from spending some time on the computer.
Recovery is a film where from a critique point of view will be kept brief, the film is short in length and with the content on offer works for the best and displays a very straightforward plot that to delve to deep into would simply give away too much………there is a minor twist towards the end but if you haven't worked out what's going on by that point you probably haven't been paying attention.
Overall acting is good from a relatively young cast, although in the grand scheme of things as far as students go this particular group are about as dumb as it gets…….no fault of the actors of course. A portion of the connection is lost when they make multiple stupid decisions jeopardising their lives, seriously snooping around someone's house in a rough neighbourhood just to find a mobile phone is the norm……..
The film does play upon the 'dumb teenager' theme a little bit too much, it starts off at a pool party which turns in to a drunken night out with a complete stranger full of selfies and even drugs….that particular part doesn't seem to fit as the lead female just comes across as bit too squeaky clean to begin with.
Be prepared for a long wait for the 'meat and bones' to happen, it's a good 60 minutes in for 'real' action, personally I felt the first hour of the film was paced well and never felt like I was yearning for something to happen.
The gore is minimal and takes part in the last quarter of the film, it is however done really well and one of the killers has a serious injury from his early life and it looks genuinely disgusting.
Overall we found Recovery to be a short, sharp but enjoyable thriller, we were quite happy to sit through the development and storytelling although at times the students are portrayed to be completely inept of making reasonable decisions which does deject a little from the overall score. I personally felt this would go down well with a younger viewing audience……..I think the whole social media aspect is certainly angled that way.