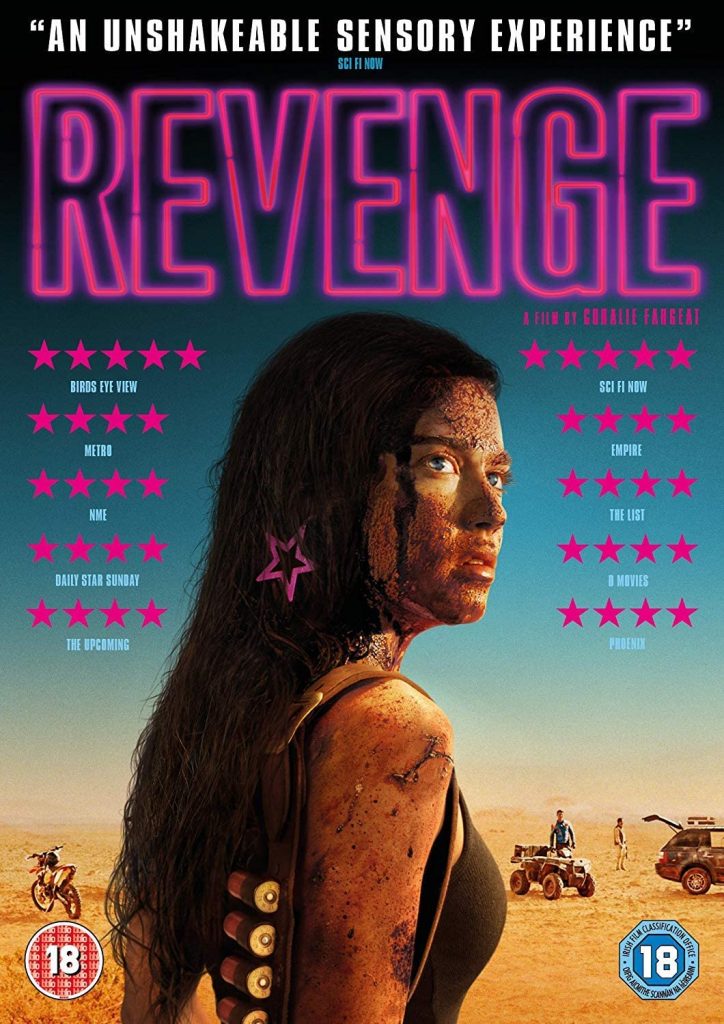 French filmmaker Coralie Fargeat's rape-revenge thriller claims to raise the benchmark for extreme cinema, whilst not groundbreaking is both stylish and blood-soaked.
Synopsis:
"Wealthy and handsome Richard takes his beautiful young mistress Jen to an isolated luxury condo in the desert, a few days ahead of his annual hunt. When his two hunting partners turn up unexpectedly, the booze starts flowing and things quickly become debauched.
Events run out of control, however, and the men realise they must get rid of Jen, or jeopardise their precious careers and reputations. They leave her for dead in a desert canyon, and callously carry on with their planned hunting trip."
After a night of partying, Jen drunkenly bump and grinds on Richard's pal 'Stan' whom becomes convinced that she's interested. With Richard out for business Stan rapes Jen, things escalate rapidly and Jen quickly learns Richard isn't the man she thought he was.
The plot becomes bottlenecked by its very nature, Jen survives her ordeal (just) and the remainder of the screen time is her revenge. It's linear to say the least so if looking for a unique concept you won't find it here, however what the film lacks in story it makes up with violence. Each character is progressed nicely as events start to unfold, Jen transforming from ditzy partygoer to gun toting badass while the hardened male hunters replace cockiness with fear.
Simply put Revenge is bold, with four as its total cast list you can be forgiven for assuming that it's not enough to carry the film, Fargeat shows us why quality trumps quantity hands down. Matilda Anna Ingrid Lutz as Jen plays her first major role, supported by Kevin Janssens as Richard and two relatively unknown faces (at least to someone unfamiliar with French TV/Film).
A recurrent word to describe Revenge is stylish, here it really does excel, from the digital score pulsating its way through the runtime to the cinematography – making the most of the baron Moroccan location.
To fully appreciate Revenge you do have to overlook a few key moments, perhaps a tad more Hollywood than alternative traditional horrors this gritty genre provides. Jen is thrown from a cliff impaled by a tree leaving a 4-5 inch wound through her stomach, all the while bleeding out – her survival….well, it's a stretch. The same happens in our blood-drenched finale when a shotgun blast to the chest is temporarily fixed by saran wrap. You're either going to embrace this take on the genre or not.
The showcase of the film is unquestionably the gore, from the squeamish to the hardened veterans I feel there's something for all. Gunshot wounds, stabbings, literal bucket loads of blood, it's on tap – the practical effects shine. Effects are made increasingly effective by horrifyingly accurate sounds, I can only imagine fishing around in an open wound looking for glass sounds exactly like that…….
Overall for a directorial debut Fargeat has created a stand out film – its linear plot and slightly outlandish moments will hold it back for a handful of viewers but on the whole there's a solid amount of bloody fun to be had.