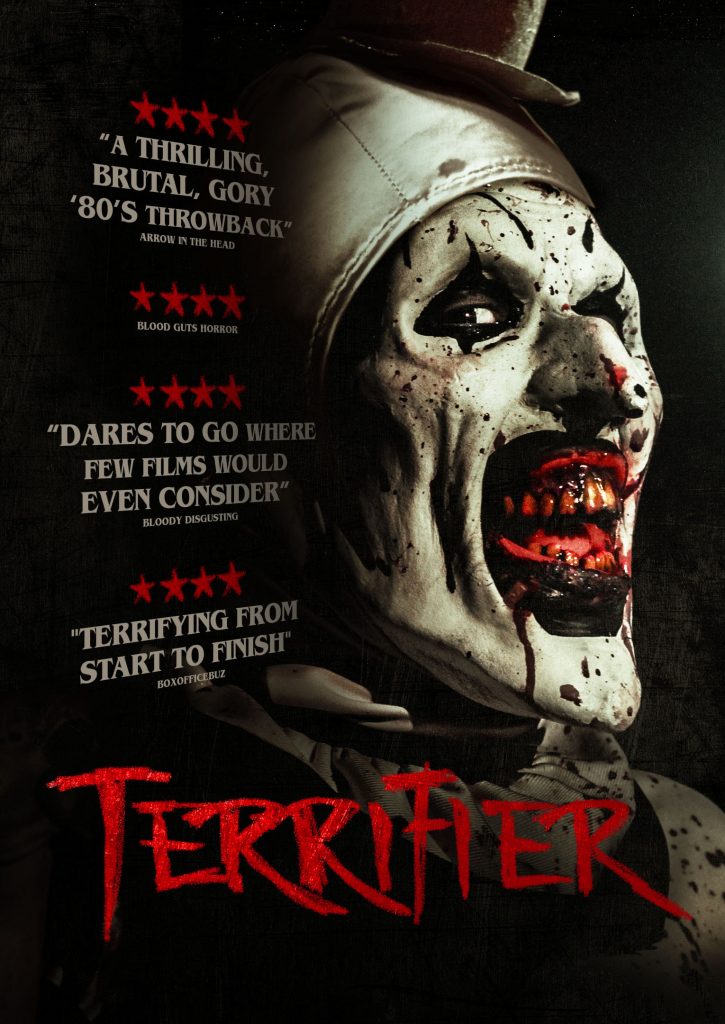 If the 'killer clown' trend of 2018/9 is finally coming to an end 'Terrifier' ensures it goes off in gruesome style. In recent times I have watched and reviewed all manner of Clown inspired horror films from the spooky to the macabre – Terrifier on the other hand… a whole new level.
The film opens with the feel of a throwback slasher. Two young girls staggering home from a party meet with 'Art' the clown on the dark and fateful Halloween night. Amused at first, the less sensible of the pair begins to goad the mute antagonist insisting on social media selfies and indulging in a variety of lude comments. Unfortunately for them Art is every much as fucked up as his deranged aesthetic would indicate. Its not long before the pair, and a whole host of other unfortunates, end up as part of his gory side-show as he cuts and mutilates his way through the evening.
Whilst the film is set in modern times, social media references and sarcastic humour included, the films rotten heart is set firmly in a time where video nasties competed for notoriety. I don't say this very often at all, but if gore is your thing, you must watch this film. What it lacks in social commentary, pretentious nods to topical 'politically correctness' trends, it makes up for in efforts to offend and disgust in equal measure.
'Art' is one mean SOB and the films tension building opener sets him up a treat. He is the freakiest looking antagonist I've seen in ages. His silent persona means that his stares and gruesome garbs give little away as to his motives or backstory making his frenzied slaughter seem even more un-nerving.
Lacking in script, Art lets his 'art' do the talking. The violence in this film is uncompromisingly brutal and its physical effects are outstanding. Imagine 80s creative kills married with early 90s effects and camera work. I cannot stress this enough, and whilst my lack of detail as to the exact nature of the kills is deliberately vague so as not to ruin your experience, this film is stunningly violent, with its uncut kill sequences both gory and in refreshingly poor taste. Expect stabbings, slashings, disembowelling, hammer blows and one hell of a show stopper involving an inverse crucifixion and a hand saw; not to mention cross dressing on a whole new level. Disgusting, I loved it.
Overall, there is not a lot more to say. If you like your violence raw, uncut and very bloody, then 'Terrifier' is your film. Closer to '100 tears' than 'IT', 'Art's antics are set to be a regular in my Halloween viewing roster.