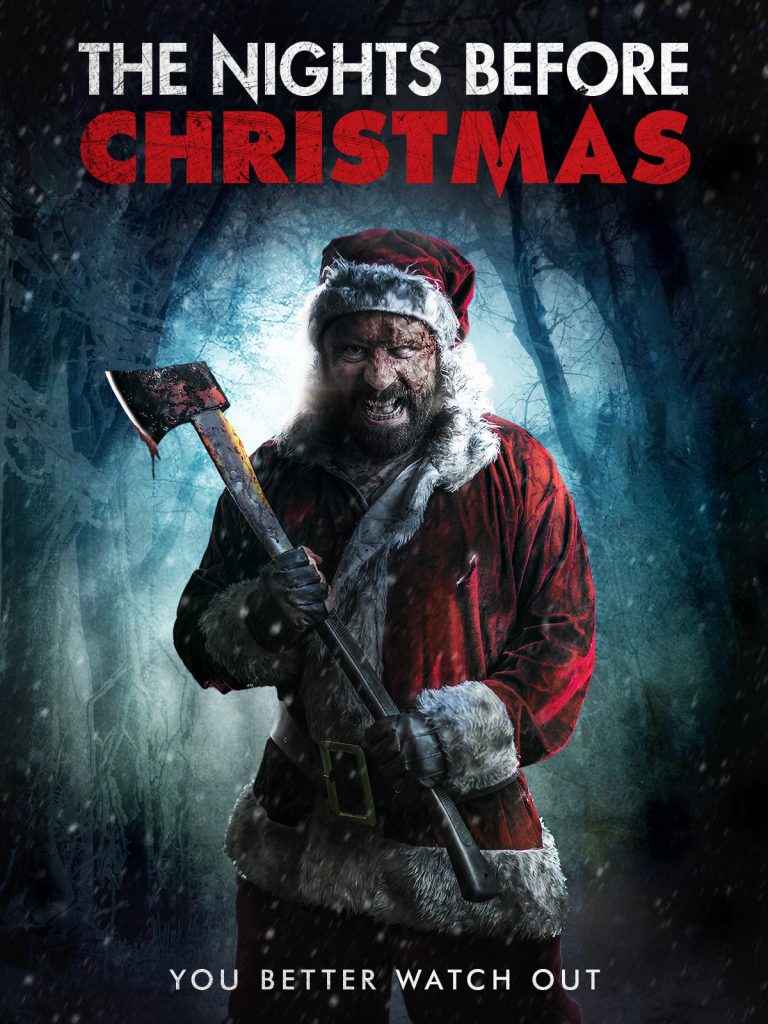 Tis the season to be jolly, or not… 'The Nights Before Christmas' certainly chooses the latter delivering a thoroughly nasty Christmas slasher which will see you on the naughty list just for watching, never mind enjoying!
To be fair, I've been riding the high of the recent revival of Christmas horror. There was the fantasy-esk titles such as 'Krampus' and 'Rare Exports', and some invasion style films such as 'Red Christmas' and 'Better Watch Out' which were all great, but I will admit, for all their imagination and extravagance, you can't really beat the classic formula of Slasher Claus.
Typically, I reach for 'Silent Night, Deadly Night' to scratch that particular itch.
With Paul Tanter's 'The Nights Before Christmas' showcasing a similar theme, the bar was set high, and whilst I wouldn't say my X-Mas fave has been replaced it was given a good run for its money.
The plot opens with a mass murder, seeing a group of cowering victims doused with petrol and, well having more than just their chestnuts well and truly roasted. With several closeups of a visibly maimed Mr Claus and a slightly more palatable Mrs Claus it's clear that this film isn't going for subtlety. Cut forwards a few years and we see a troubled survivor of the massacre, hiding in witness protection. With her dad finally tracking her down and offering an olive branch, a few quiet years since the massacre, it seems she might be able to put her past behind her.
That said, that wouldn't make much of a horror film, and its not long before Santa's making a list, and checking it twice, and back on the murder spree.
And what a grisly one it is to!
This film is satisfyingly violent. With such a bombastic start I genuinely wondered whether the film could keep pace, but with plenty of interesting ideas and locations including some great set pieces the film manages to keep the momentum going, with each kill managing to up the ante slightly, with the odd plot twist helping to keep the story flowing. The effects are decent, and the kills are nicely varied. The films effects have a modern quality, but the use of prosthetic effects (not to mention some poor taste) gives some of the slashing a definite 'throwback' feel. There's plenty of blade kills, axe-kills, strangulation and even a loped off cock, so trust me when I say you won't feel short changed if you're in the mood for something brutal.
As if the ample crimson isn't reason enough to give the film a watch let me tell you that it's the films antagonist which will see it a reoccurring feature on my festive list.
Simon Phillips (who's also credited as a writer) carries this film as Killer Claus.
His anti-claus is up there with the best. He's got the best lines and is perfectly unhinged. I'm not exaggerating when I say he has a presence (and no that's not a pun) to put him up there with the best. Indeed, I would love to see Phillips let loose as a stalker with a little more scope than a killer Santa. Every scene he is in, he nails, in fact, it was a little odd to be routing for the bad guy; but man, he's killer.
So much so, that his quality was not matched by a fairly uneven set of protagonists. Indeed, it was not quite clear who we were supposed to be routing for on the other side!
Between the slaying (ok, pun intended) the film follows the FBI and local police forces as they try to figure out the next target and put the murderous duo behind bars, and mixed in with this, is the plight of the survivor from the original massacre; neither plotline amassing to much either, with the FBI roles struggling to find the balance between exposition and cliché, and the later, well only really coming into its own towards the end. In stark contrast, the writing around the set-pieces isn't quite as polished, and the rest of the characters struggle to be either memorable or at times convincing.
I wouldn't say these elements are particularly bad, and certainly not by other B-Movie standards, but they don't hit the highs of the more violent or sadistic elements of the film. Even when the film tries a more psychological edge, most of these scenes, often involving Mrs Claus and/or the FBI lead feel like parodies of scenes from other movies. The change of pace isn't bad per-se, but the crime thriller direction doesn't drive the film in the way that it works in something like the 'SAW' franchise as example.
Overall though, if you are wanting something outright nasty this Christmas Tanter's 'The Nights Before Christmas' is well worth a watch, and this, paired with 'Silent Night Deadly Night' (1984) would be one gruesome double bill.