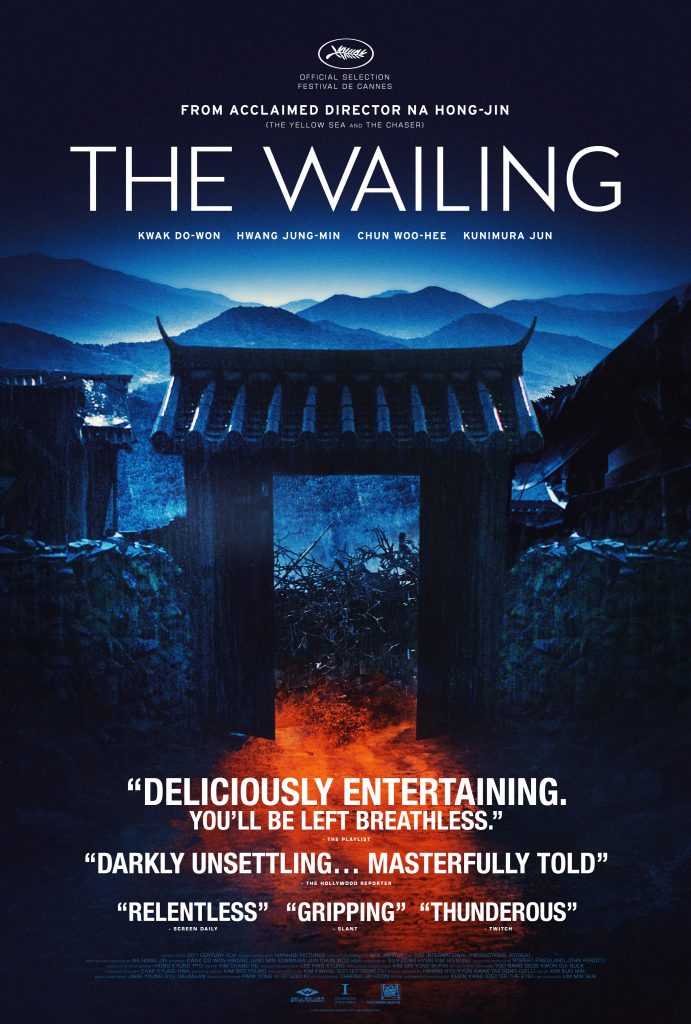 'The Wailing' is the newly released Korean exorcism movie which is blowing up horror forums all over the place. If you haven't already been caught up in the hype from is spate on the festival circuit, or from its limited cinema release, then rest assured your will be to on the run up to its imminent DVD release.

The plot follows a real bum of a cop. Abusing his power where he needs to, cheating on his wife, exhibiting apathetic behaviour to pretty much everything aside from his own interests; the guy doesn't really do much to sell himself. Still, it is never the guilty who are truly punished for their inadequacies of person is it?  And the 'devil' has a way of pointing this out!
The same is true in 'The Wailing' the latest horror sensation out of Korea which puts a refreshingly different spin on the exorcism genre, infusing traditional genre fayre with vibrant cultural influences. The result, a behemoth of a movie which blows recent horror clichés out of the water with high production values and depth of both story and character – (and run time too, but more about that later).
Aside from the involvement of the main character Jong-Goo, the film follows a mysterious sickness which targets the vulnerable, possessing them and causing them to commit violent acts against family members. Initially the police seem somewhat clueless, having to blame the bizarre circumstances on hallucinogenic mushrooms. Naturally Detective Jong-Goo doesn't give too much of a shit – that is until his daughter starts to act out of character. Then he must face far more than he ever thought in a battle of faiths and ultimately his own weak resolve.
The plot drifts between focussing on the witch-hunt for suspects and Jong-Goo dealing with his family issues, with the audience in tow, we span genres and get something of an education into the Korean spiritual believe system, and solid entertainment of course.
As I have already said the production values are through the roof and there is a heavy investment being made on ensuring that despite being definite genre film, it can stand shoulder to shoulder against any mainstream production. The acting to, is good throughout, and early in the film the script is both darkly comic but maintaining integrity. The locations in the film are mesmerizingly lush, be it forest or traditional towns. There are several scenes which take place at night which just ooze atmosphere and others which shot natural vistas which are just jaw dropping in HD.
As an exorcism film 'The Wailing' begins quite ponderous, and indeed the exorcism part of the film – which again is a sight to behold – doesn't take place until about an hour through. Up to this point the atmosphere was established, and there had already been some effective scares and set pieces, but ultimately the horror was oddly balanced. Indeed, it wasn't until lengthy exorcism sequence we midway through either of us checked the run time, assuming the staple 90-100 minutes. Boy, were we wrong. 'The Wailing' clocks in at a titanic 2hours 36 minutes!
So what do we get for our time? A full on Korean themed tour of horror genres! Following the initial exorcism, we get treated to a lengthy montage of other horror-tropes including an amusing zombie sequence, a plague sequence reminiscent of the western 'Exorcist' franchise and a whole bundle of creepy locations until the films equally satisfying climax. There is enough material here to fill a whole franchise! Its gory in parts, brutal in others, and whilst staying true to its concepts, always puts the emotional impact over stylisation.
Overall, 'The Wailing' has received nothing but rave reviews since its release, and we at www.beyondthegore.co.uk are not about to piss on the parade. 'The Wailing' is destined to be a modern classic – and deserving of it to. The run-time could be a little of a turn off for some fans of the quick 90-minute in and out (and I think it wouldn't be too much of a stretch to say that some scenes could have been have been less indulgent without the film suffering), but for those looking for a horror film which is as accomplished as it is entertaining the you definitely need to have this in your shopping basket when it releases in the UK on Jan 30th.