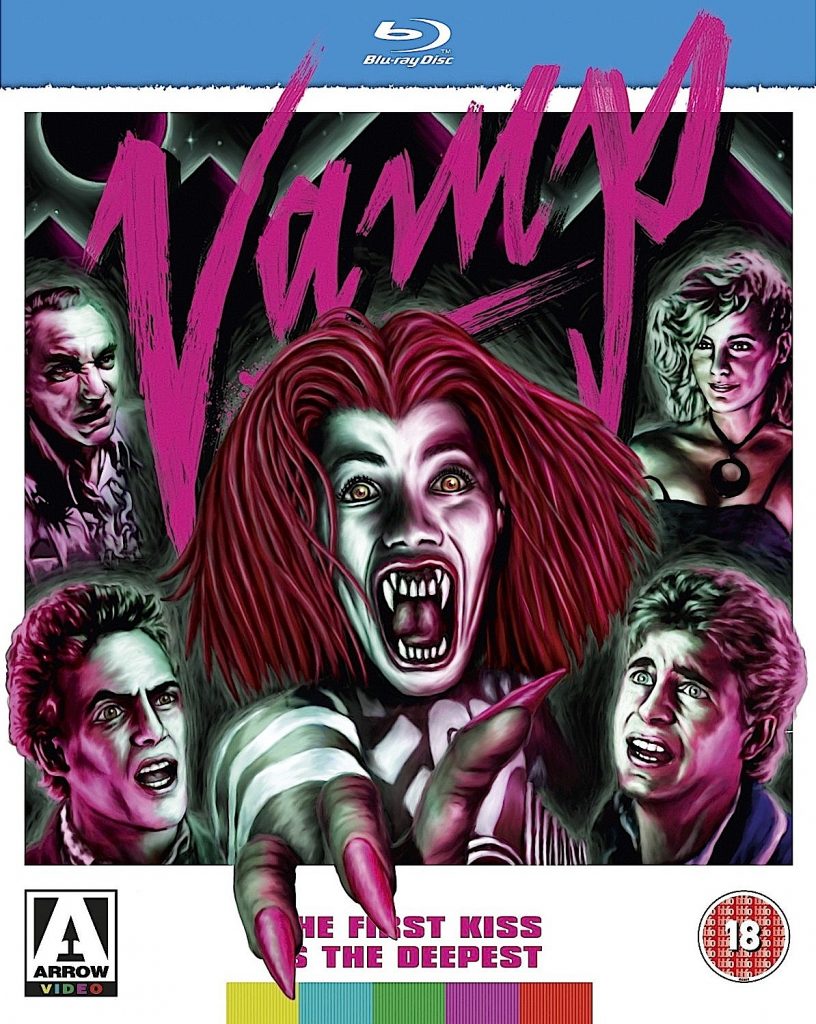 Every now and again it's nice to give the mind a rest, mainly from all of the 'psychological' horror we have to endure and watch a cheesy, camp 80's film. Primed with humour, songs that are a blast from the past, a handful of splatter gore and 'that' style of cinema that really only the 80s could pull off.
VAMP ticks all of the boxes from above, it actually has a tense opening scene, two men are about to be hanged, as part of their 'initiation' to the fraternity – of course once we realise what is actually happening the film lightens up and some of the comedy begins. Ultimately 'Keith' and 'AJ' pledge to bring a stripper to a party that night…..seemed like a good idea to start with!
Apparently being in Kansas makes this a tall order and they decide that the only way to make it a possibility is to head out of town. With no transport or money they head to the rich geek of the University 'Duncan', they soon make a deal with Duncan (pretend to be my friend for a week) in exchange for a ride into the city.
The trio embark on their journey to try and 'find their gal', they make it to a coffee shop in a rundown part of town to come up with the game plan and read a paper to try and find the right venue – its decided that the 'After Dark Club' is the place to go!
The club is dark, seedy and is housing most of the cities low-lives however one thing this club doesn't have is 'Scmelllllly Pusssssssssy'! The women are gorgeous and the boys are on the lookout for their stripper. The lights dim and it's time for the 'main event' Queen Katrina (Grace Jones) is on stage and puts on one of the strangest, surreal, stripper scenes I have ever seen! I'll be the first to say that out of all women we had seen so far, Katrina was not on the list to take to the party! AJ sees something in the performance and arranges to see Queen Katrina backstage. Katrina seduces AJ and kills him by taking a chunk out of his neck, it becomes clear that this isn't any ordinary club, Queen Katrina is the head honcho of a vampire-ran strip joint, and most of the clientele are lunch! After all these are the maggots of society, who would know if they disappear?
The remainder of the film plays out as a survival from the vampires, with the help of one of the young strippers Allison (Deedee Pfeiffer) who recognises AJ and Keith from their teenage years ,they team up to try and make it through the night.
Grace Jones although doesn't get much air time does play a fairly convincing role as an ancient vampire – she doesn't have a single line of dialogue through the whole film, but credit where its due she knows how to play a unique villain and though her performance as a stripper is going to take me a while to erase from my memory her scenes as a blood hungry vampire are actually strong – including the ending where she meets her hilarious demise.
Some of the scenes at night are shot brilliantly, with the addition of coloured lighting in key areas of the shots, it really brings portions of the film to life – for me director Richard Wenk has managed to create quite a desolate city but with the use of the lighting almost adds a mystical feeling to the town. It's certainly something that's hard to depict in a review but you will understand when you see it yourself.
It's clear to see that VAMP has influenced such titles like 'Dusk till Dawn', the resemblance is striking. Trapped in a seedy strip joint by attractive women that turn out to be blood suckers, I have no doubt in my mind that it at least contributed to some of the ideas for the latter film. The gore also follows in the same tongue-in-cheek manner that is seen in VAMP, there are pockets of gore here and there but they are never truly offensive.
I found VAMP to be entertaining in all the right places, its pacey, has a number of funny scenes and lines and has been masterfully put together with some great cinematography. It's one of those 80's gems and is now part of my horror collection! That Grace Jones dance……….nightmares!