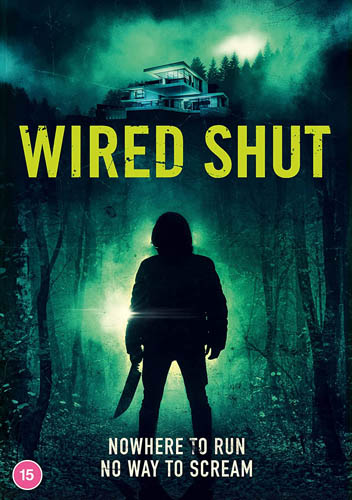 Wired shut, the debut film of writer/director Alexander Sharp is a slow burn thriller which has, for both the good and the bad, got 'indie' written all over it – from its arthouse stylised opener, its small cast (of three), and decided focus on style over substance.
The plot, as is the go-to for budget tension movies, follows the bungled robbery turned home invasion of a disillusioned and downtrodden author. We come to understand that following a car accident, which subsequently leads to the protagonist having his jaw wired shut, Reed Rodney is struggling to find his voice both metaphorically and literally. Seemingly despised by his wife and finding writing an increasingly frustrating struggle, his mood is lifted as his estranged daughter comes to visit him out the blue. Naturally his change in fortunes is somewhat short lived as she clearly has ulterior motives for her visit.
For a thriller, it's a pretty predicable plot, and even if you've not seen one of the many films with a similar premise, it won't take you long to figure out where the film's going to end up. Given the exceedingly small cast, and clearly limited budget the first half of the film straddles a fine line between slow-burnand sluggish. The pace isn't helped by the little to no dialogue owing to the aforementioned jaw wiring. There is something to be said for this angle however, as the limited dialogue does allow for some interesting character interactions. The tension that existed between Reed and his daughter is made more apparent due to the barrier and it's a good opportunity to include other mediums for exposition such as onscreen text prompts and written word. Again, nothing that's not been done in other films, but it's an interesting way of building tension.
Equally thoughtful is the films production. Without the opportunity to rely on dialogue there are clear considerations to the way that colour and more prominent here, sound is used to fill the space. The set is deliberately stripped back but its lighting and hues give the film a stylised look whilst the grinding, almost industrial sounding soundtrack reflects the tone of the films more key scenes.
That said, style can only carry 'Wired Shut' so far and whilst the film does ramp up its pace and action in its second half the scripting of events is very by the numbers with its conclusion equally telegraphed. Whilst it's entertaining enough to watch, the film's ending had me feeling as if I was going through the motions rather than caught up in a grand finale. Its got a couple of grim moments but nothing as violent or as gory as it needed to.
Overall, this film is a tough one to call. Some debut films tend to be a great idea which are often difficult to convey, whereas here we've got a very competently made film, but whose concept is too generic to make a splash. A final mention does have to go to the cast of three who have a lot riding on their performances, which, given the limited material, does what it can – but therein lies the issue; this film just needed a little more depth from both its story and conclusion.