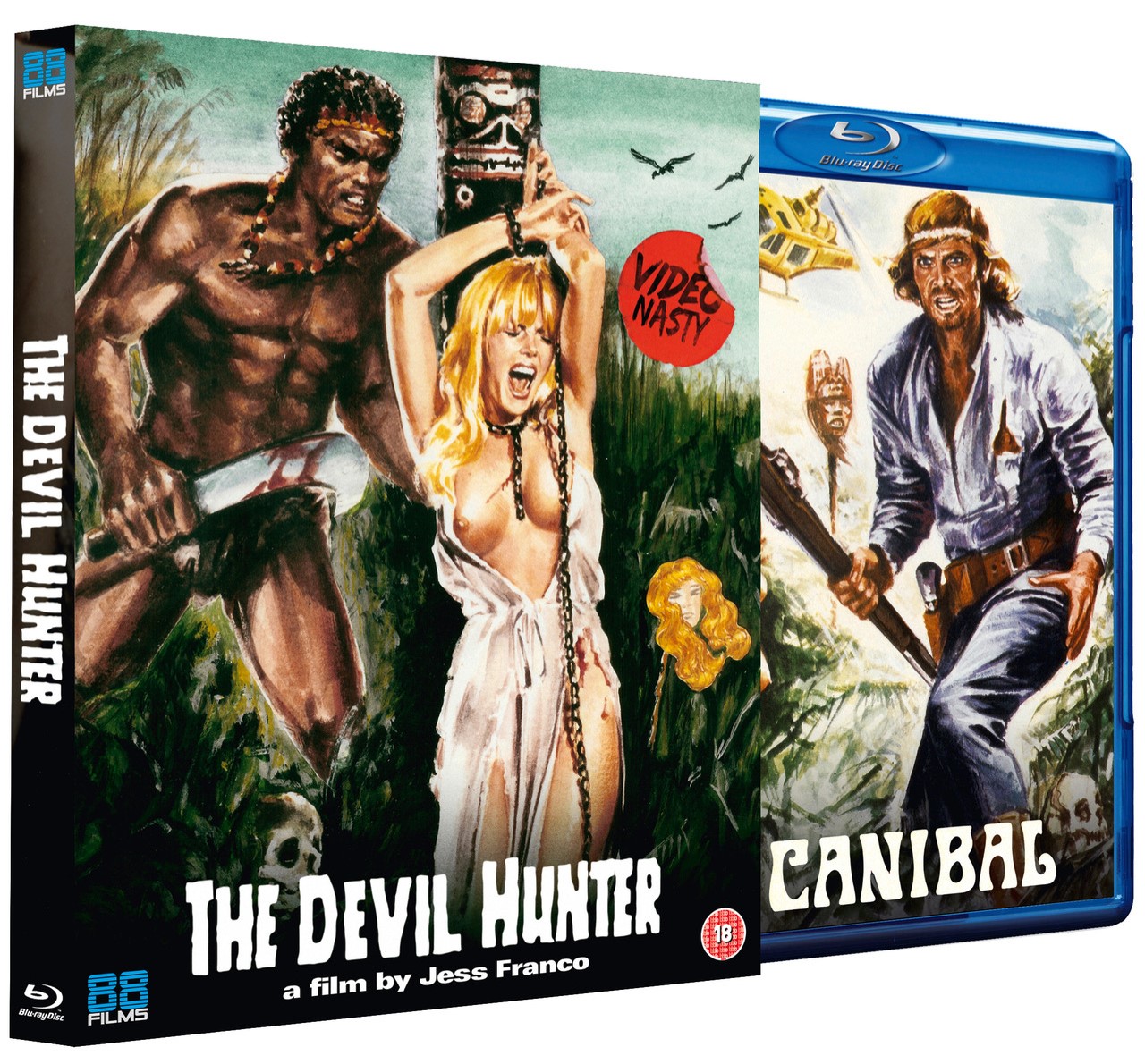 Sun, sex, sand and… sadism! When a gorgeous model is kidnapped by an isolated tribe and imprisoned on a remote island, a grizzled Vietnam veteran travels to the uncharted tropics to save her. He soon discovers human flesh is on the menu for the ravenous kidnappers and the sacred Devil God they worship…
Featuring a leading turn from Italian horror legend Al Cliver (Zombie Flesh Eaters, The Beyond), Devil Hunter is part Indiana Jones, part Cannibal Holocaust and all outrageous insanity as Jess Franco throws-in babes, bare-boobs, blood and native-battles in a glorious onslaught of cannibalistic carnage.
For fans of cheese and sleaze, it doesn't get any better than the Spanish B-movie maverick's deranged cannibal classic Devil Hunter – finally on UK Blu-ray for the first time to be devoured by Euro cult enthusiasts and video nasty lovers alike. 
Franco-Philes: Musings on Madrid's B-Movie Maverick. A feature length documentary examining the career of maverick B-movie maestro Jess Franco, with contributions from: film journalist John Martin; author and critic Rachael Nisbet; author and publisher Andy Black; Sitges Film Festival organiser Mike Hostench; Fangoria editor and writer Tony Timpone; assistant editor of Starburst Magazine Martin Unsworth; Brunel University scholar Julian Petley; actress Dyanne Thorne; actor Howard Maurer and actor Antonio Mayans.

HD transfer in original 1.66:1 aspect ratio

Extensive re-grading carried out in the UK

Uncompressed LPCM English audio

Optional English SDH subtitles

Region free Blu-ray

Buy Devil Hunter: http://bit.ly/2SLr59C