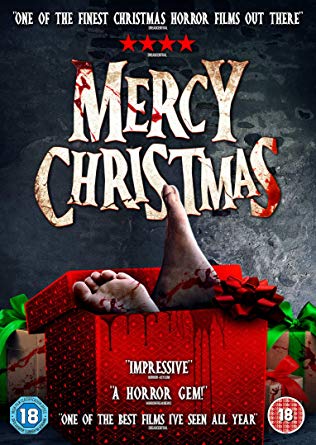 If you've ever wondered what the Sawyer's festive gathering comprised of, then ponder no longer. 'Mercy Christmas' (whilst admittedly nothing to do with the Texas Chainsaw family), tells a bloody and brutal tale of a family whose 'having friends over for dinner' might be something far more literal than just a turn of phrase.
'Mercy Christmas' follows the exploits of a cannibal family and their murderous yule-tide traditions.
One fateful night Michael Briskitt (Steven Hubbell), at a rather lonely Christmas party, meets the girls of his dreams. After hitting it off, he is invited to spend Christmas as a guest at her family's home. Determined to make this the Christmas he has always dreamed of, he fully commits. Donning his favourite jumper, he puts on his most polite face and fatefully steps across the threshold of the family home. One spiked glass of Egg-Nog later and he – along with a group of other misfits – finds himself on the menu.
The plot introduces a range of other characters, including a new initiate into the family, but ultimately 'Mercy Christmas' is simply a Christmas torture porn movie, with a spattering of black humour for good measure.
Indeed, the film caught me a little off guard, despite its rather jovial and kind spirited opener, its gore is both cruel and strong in parts. The effects look schlock, but in the best way, and whilst you don't get to see huge amounts of mutilation in all instances there's always plenty of blood, screaming and culinary themed dissection on offer.
For a splatter movie it was even more impressive to see a collection of mature and fully committed cast. Whilst I wouldn't call the script strong, and indeed there are the typically cringy lines as the murderous family (of course) have the clichéd wholesome family banter, and the irony is forced upon us as they go to church, say grace and talk about how much family means to them at Christmas etc, lines are delivered with enough conviction and quality to at least make the scenes between murder and mayhem bearable. Despite the typicality of the film's setup, some good one liners and over acted performances give this film a fairy unique identity; especially amongst the typical festive slasher's films.
Returning to the gore element, which I will reaffirm, is strong and varied, we are treated to a whole host of both grisly dismemberments, and some equally stomach-churning cannibalism scenes. One scene in particular springs to mind where the family serve up a roasted leg, garnished with slices of pineapples none the less. Gross. Effects look good, especially the prosthetics.
As I hinted at before, the film switches between naughty and nice quite frequently, but don't be put off, this is not a 'nerd' style of humour, and aside from the films humorous slapstick style ending – which is great in its own right – the majority of the humour in the flick is both dark and surprisingly dry.
Overall, this is a film which is only likely suitable for hard-core horror fans, as opposed to more 'family friendly' horrors such as 'Krampus' and the like. That said, it's a refreshing change, and its only shortcomings really come from the typical shortcomings of splatter films in general – namely cringy scripts and uneven performances. That said, some cool set pieces, and a satisfyingly brutal finale secure 'Mercy Christmas' as a likely candidate for annual yuletide viewing.
Considering I knew nothing of this movie when I took a punt on it earlier this month it was a thoroughly (un)pleasant surprise.