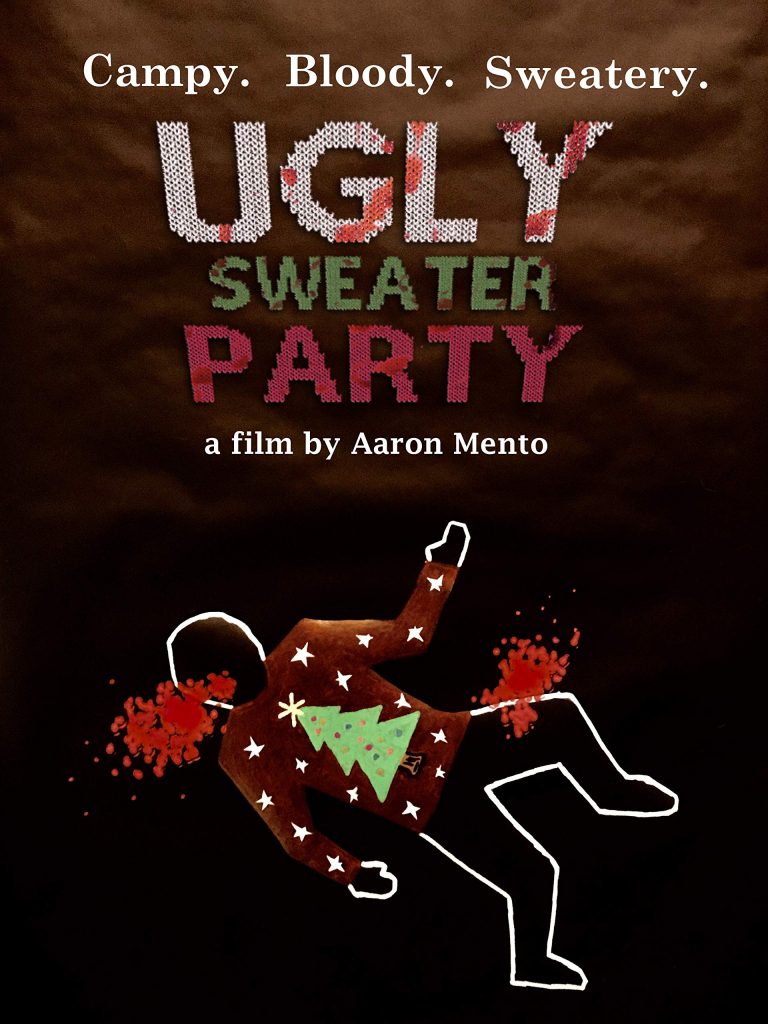 As far as festive slasher movies go, the seasons entries have been a bit of a mixed bag. Killer elves, Killer (Ms) Klaus and murderous family disputes have provided nothing if not an eclectic mix of Christmas carnage.
That said I'm always open to more, and when invited to Aaron Mento's 'Ugly Sweater Party', I packed my finest and off I went for a weekend of festive frolics at Camp 'Mandix'.
All together now, and out loud, Camp MANDIX.
And that's the tone of the movie, so if that isn't amusing to you, probably better to disregard my scoring, but if like me, a 35-year-old man-child, and you like your humour crass and satirical then read on.
The film follows two mates, Cliff and Jody, on their journey to an Ugly Sweater Party where they hope to rekindle their intimate relationship with two twins. Unbeknownst to them, the two horny stags are actually making their way to a bible camp run by the twin's father, and they aren't the only ex-flames invited either! To make matters worse, whilst sex seems off the cards, Cliff's sweater begins to possess him driving him to a murder-spree, an ex-employee (booted out of the Christian camp for his love of metal music) has tasked his favourite band 'Omicida' to design a riff power laser cannon and is on his way to enact his revenge. Top this off with rampant homosexuality throughout the party's guests, and a priest who has a less than healthy interest in innocence and I think the only one having a good time was me! Viewing a refreshing mixture of un-PC carnage, shlock z-grade effects and a banging heavy metal soundtrack.
Killer!
So yeah, as a film you want to be thinking 'Astron-6' violence and more than a hint of 'Troma' humour. For me that is more than alright and I've no shame in saying that if you ain't got the budget or inclination to provide quality, then sure, go for quantity. For what 'Ugly Sweater Party' lacks in production and technical fidelity it makes up for in raw commitment to the Z-grade cause.
Effective use of CGI effects and filters, and a script which sees inuendo and compromising set pieces thrown in everywhere and you've got a good time. This is one of those movies which really understands how to make schlock stick.
Whilst there is plenty of iffy moments here and there, and its not going to be content which will please everyone, there are enough set-pieces and prosthetic effects which show that the films influences reflect the heritage of equally zany flicks. Frequent violence including genital mutilation and other bodily impalement and dismemberments help to make sure this movie goes beyond just a crassly written script. These moments are amongst the best, whilst scenes later in the film which showcase some CGI laser carnage to some seriously shredding riffage courtesy of a genuine thrash band reflect that the film was written to satiate a specific niche audience.
Overall, I've watched enough of this genre of z-rate Splatter to know that making it work is not as easy as one might think. There are some seriously shit efforts which prove that films like 'Ugly Sweater Party' are the exceptions to the rule, and that there is an ironic art to making bad movies good. Mento has done enough here to see his labour of love – the post production must have been a nightmare – has come good. As I've said, it won't be pleasing everyone, and indeed, there seems to often be as much of an aim to offend as there is to entertain, but for those who can ignore a seriously nonsensical plot and enjoy the crass, crude, rude and often vulgar I reckon you should check this out this Christmas.
Probably best not to watch with your gran though!